Eastbourne Pier: Burnt-out arcade demolition begins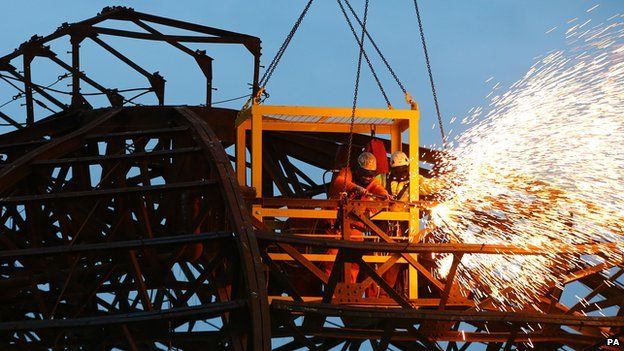 Work has started to demolish the burnt-out shell of the arcade on Eastbourne Pier that was destroyed by fire earlier this year.
A team of experts using blow torches began cutting through the structure's steel girders after being winched into place on Tuesday.
High winds meant it was unsafe to start the process in the morning as planned.
The first girder removed from the 144-year-old Victorian pier is to be turned into a public artwork
The remaining metalwork will be taken away as scrap.
During the eight-week works, the front section of the East Sussex pier will be open but the end will be shut while the cranes are operating.
The arcade structure was destroyed when fire broke out behind wooden panelling on 30 July.
Two-thirds of the structure was saved and the surviving sections have since reopened.
Crane operator Paul Dixon said work had to stop if the wind speed got above 14mph (22km/h).
"I think there's 120 tonnes of steel to come out. It's like a big Meccano set and each piece has got to be taken out individually," he said.
Two days after the fire Prime Minister David Cameron visited, pledging £2m to help Eastbourne and traders who lost their livelihoods.
But Sammy Morgan, who runs the Military Heroes Trust, which used to occupy a unit on the pier, said no-one had seen a penny of it.
"We have lost £60,000 since we were on the pier but only had £3,000 compensation," she said.
David Tutt, Liberal Democrat leader of Eastbourne Borough Council, said: "David Cameron didn't come down with a cheque for £2m, he came down with a promise of money.
"What we have got is a 12-page application form to request the money.
"We have to make a business case and send that to the Department for Communities and Local Government."
Related Internet Links
The BBC is not responsible for the content of external sites.