Farage blasts MP Turner over recall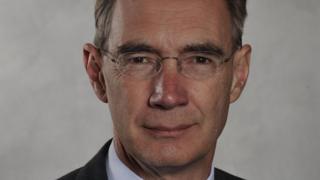 The Isle of Wight Conservative MP Andrew Turner must be wondering who else has got it in for him.
Independents have taken over the council. Private Eye magazine has been trawling through his old expenses. Even former Conservative colleagues compiled a dossier of allegations. That was rejected by the Parliamentary Standards Commissioner but the local newspaper is still demanding answers.
And now along comes the UKIP leader Nigel Farage.
Earlier this year Mr Turner supported the idea MPs should face a by-election if constituents voted to have them recalled.
The bill proposed that an MP would face a by-election if 10% of constituents sign a petition after the MP is found guilty of "serious wrongdoing".
Now Mr Farage says that he should apply the principle to himself.
"Andrew Turner needs to come clean with the Isle of Wight. He has shown that he wants to do the decent thing by voting in the House for recall, so now he should do the decent thing and ask permission from the Islanders to continue as their MP."
'Live on the island'
No doubt prompted by the UKIP candidate Iain McKie, Mr Farage calls the expenses claims "appalling revelations". But are they really a resigning issue?
By designating his home in Newport as a second home the Isle of Wight MP was able to claim £103,000 in allowances between 2004 and 2010.
His critics point out that Mr Turner boasted on his website to "live on the island" so his main home could not have been a flat in London.
Yet all the payments were approved by the fees office in Parliament as within the rules. In fact when Mr Turner suffered a stroke in 2006 many of the applications for payment were not made personally by him.
When the expenses scandal broke constituents on the Isle of Wight were invited to go through the books and the receipts. A number did so, and no issues were raised.
More importantly Andrew Turner was returned with a majority of over 10,000 at the General Election.
In the European election however a substantial majority on the island voted for UKIP.
On the Sunday Politics fellow Conservative backbencher John Glen, from Salisbury defended Mr Turner as a "good parliamentarian." But in the current public mood that is far from enough.
After the Rochester by-election UKIP's pledge to "sweep away the failed political class" is gaining traction.
However hard a local MP has worked for their constituency, and whatever the merits of the principles they have stood for, it seems UKIP is set on a clear-out.