Ebola outbreak: Filming for Band Aid on the disease frontline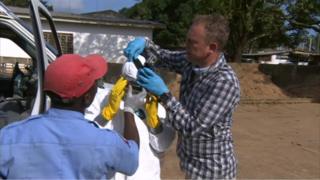 BBC cameraman Al Candelin captured footage for the Band Aid single on a recent trip to Liberia, where Ebola has claimed the lives of 3,000 people.
There are 400,000 people in Monrovia, Liberia's capital. It's a busy, bustling place, with children running to school, shop owners selling wares from their stores and people on their way to work.
"Life is going on as normal," said Al. "But you're hypersensitive. You're aware that all of these people who are milling around you could have Ebola."
Al was part of a BBC team filming in Liberia, the country hardest hit by Ebola with nearly 3,000 deaths. Some of the footage the BBC Look North cameraman captured has been used in the video for the new Band Aid single.
To capture the footage, he had to travel to some of the most at-risk parts of the West African state, surrounded by people who often don't understand the way Ebola is spread.
"You don't shake hands and you maintain a two metre distance from people," Al said.
"You've always got one eye on the eye piece of the camera and another observing your environment."
Also keeping a lookout, hands tucked through Al's belt, was the team's biohazard specialist. Any sign of someone getting too close and Al would be guided back away from his camera.
"When you're looking through the lens of a camera you're not really looking around you," he explained.
"The expert would get out the vehicle first whenever we went somewhere to see if it's safe.
"He'd be looking at people to see if they showed signs of symptoms. Are there any dodgy looking fluids on the floor? Is there any blood?"
In most situations, disinfecting their filming equipment and regularly using hand sanitizer kept the BBC team safe from Ebola.
"We had antiseptic wipes to wipe everything down," said Al. "You wipe the vehicles; spray your boots in case.
"The only thing we put on the ground was the tripod for the camera and that was because we had to. You just don't touch anything,
"It's a hot country so sweat was running into my eyes while I was filming and you have to resist the temptation to wipe it away."
Some of the filming that Al did involved following Ebola burial teams to some of the more rural villages.
Understandably, the unceremonious way that Ebola victims' bodies are dumped into bags and sealed before being taken away, leaves friends and family members angry and distressed.
"These communities look after one another," said Al. "So if someone is ill, normally it would be the immediate family who would help them. They don't go to hospital.
"If someone dies, they wash the body before burying it. If someone is taken away by the biohazard team then their family doesn't know if they'll ever see them again."
Walking into that kind of atmosphere was another problem that the camera crew faced. In one village, a man confronted Al for filming.
It came to nothing but an Ebola-infected village is the last place you want physical confrontation.
"When teams came in to remove a body it would be teetering, it could all go off," said Al.
"When you're filming, you can manage a public order situation and you can manage a virus situation.
"But if you combine the two then you're not going to manage that. You just have to get out of there."
Despite all the precautions, getting into the house to film the Band Aid clip was too much of a risk.
Instead, Al fixed a GoPro camera to a nurse's head. Even then the nurse was in full biohazard suit, Al was wearing gloves and standing side-on to attach the camera to avoid being face to face.
'I'd do it again'
The nurse slowly entered the home, capturing the harrowing Band Aid 30 footage of a dimly-lit hut and white suited medical staff lifting a skeletal, barely alive woman off a stained mattress.
Despite the obvious risks of working in a place where accidentally wiping the sweat from your brow can be deadly, Al said he was never frightened.
"I'd do it again," he said. "I never personally felt at risk, you're just very aware of your surroundings. When you come back you want to sleep for days."
For people in Liberia, Guinea and Sierra Leone, relaxing back into normal life is something that just isn't possible. Something Al's footage has helped push home.
"It's a virus that is just devastating for the communities," he said. "People are living in poverty so life is really hard as it is. This is just making their lives hell."