South Downs National Park in dark sky status bid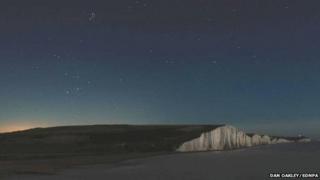 A campaign to reduce light pollution in South Downs National Park and give it dark skies special status has begun.
A bid is being putting together to make the sky above the 1,600 sq km (617 sq miles) park a Dark Sky Reserve.
Granted by the International Dark-Sky Association the reserves aim to reduce light pollution.
The park authority said light pollution affects wildlife and reduces stargazing opportunities.
Gaining official status does not carry any legal power, but it is hoped the move will encourage residents in the South Downs, which stretches 140 km (87 miles) from Winchester in Hampshire, to Eastbourne in East Sussex, to think about how much light they use.
The International Dark-Sky Association said status was usually granted to large areas of public or private land with an "exceptional or distinguished quality of starry nights and a nocturnal environment that is specifically protected for its scientific, natural, educational, cultural heritage, and/or public enjoyment".
The South Downs National Park Authority is asking people to support its bid.
It said it would also work with communities to identify sources of light pollution and where lighting can be altered to "make our dark skies even better".
The park authority says the south east is the most light-polluted region of the UK.
It added that the light pollution threatened habitats and adversely affected nocturnal species, including bats, moths and glow-worms, which can "become disoriented, resulting in decreased reproduction and reduced foraging for food".
It hopes to submit its Dark Sky Reserve application next winter.
Certified Dark Sky Reserves in the UK
Source: International Dark-Sky Association
---