'Workless' household rates fall but North East still highest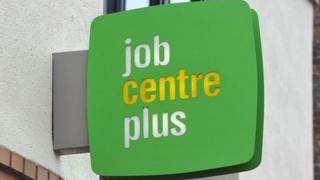 The number of homes in north-east England and Cumbria where nobody has a job has fallen to a five-year low, according to the Office for National Statistics (ONS).
There were 10,000 fewer workless households in 2013 across the region, compared with 2009.
However, the North East still has the highest rate in the UK - with 23% of households without work.
The fall does not mean more households are better off, critics say.
The UK rate is 17.2% or 3,518,000 workless households. The region with the lowest rate is the South East, with a rate of 12.7% - which is 349,000 homes where nobody of working age has a job.
In 2013, County Durham was the local authority area with the highest number of workless households in the region, with 42,000 households without someone in employment - 25% of the total.
Middlesbrough had the highest percentage, with 30% of its homes (14,000 homes) jobless. Eden in South Cumbria had the lowest percentage with 10% of households (2,000) without work.
---
Working the numbers
Workless Households by area in 2009 and 2013:
Northumberland and Tyne and Wear - 113,000 and 107,000
Tees Valley and County Durham - 95,000 and 92,000
Cumbria - 27,000 and 26,000
Workless households are households where no-one over the age of 16 or under 64 is in employment.
Figures from the Office for National Statistics
---
Shona Alexander, from the Newcastle Citizens' Advice Bureau, said many low-paid workers were struggling on zero hours contracts, so while people had work they were not necessarily better off.
She said: "People come to us with some really complicated problems because they are in and out of work and that's certainly got worse in the last couple of years."
Alex Burghart, from the Centre For Social Justice think-tank, said welfare reforms had driven more people to find work.
He said: "These are really promising figures; if you think you can sign on and not look for work, well, you'll quickly find that you won't receive any benefits.
"So the government's welfare reforms are encouraging people, quite forcefully in some respects, to look for work."