Odds slashed on UKIP getting first MP in Lincolnshire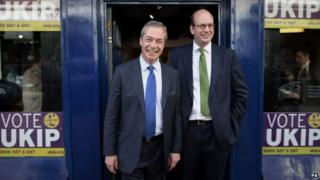 Bookmakers have slashed the odds on UKIP winning a number of seats in the 2015 general election.
Following the party's victory in the Rochester and Strood by-election, the bookies reckon UKIP has a good chance of making gains from both the Conservatives and Labour.
In the Lincolnshire constituency of Boston and Skegness, Nigel Farage's party is ranked as 4/7 favourites to gain the seat from the Conservatives, who are second favourites at 11/8.
Ladbrokes' spokesman Alex Donohue said: "UKIP have been targeting this seat for some time and because the current MP Mark Simmonds is stepping down at the general election, we expect them to win that seat."
If the bookies are to be believed, then Boston and Skegness will see a straight fight between Conservative candidate Matt Warman and UKIP's Robin Hunter-Clarke.
Target seat
Another close contest is expected in Great Grimbsy, where Labour are 8/15 favourites to hold the seat and UKIP are 7/4 second favourites.
In the 2010 general election, Labour Euro-sceptic MP Austin Mitchell saw his majority over the Conservatives reduced to 714.
Mr Mitchell has announced he will not stand again in Great Grimsby, after representing the constituency since 1977.
Another UKIP target seat is Rotherham, where UKIP polled strongly in this year's local and European elections.
Labour favourites
However, the bookies do not not expect UKIP to snatch this safe Labour constituency.
According to Ladbrokes, Labour are 1/3 favourites to hold Rotherham with UKIP second favourites at 9/4.
Nigel Farage has claimed the number of seats UKIP can win in next year's general election has doubled, following the party's success in Rochester and Strood.
William Hill is offering odds of 4/6 that two or more MPs will defect to UKIP before next May.
Politicians and punters alike will be keeping a close eye on the betting markets as the general election race comes under starter's orders.