Train firm launches lost teddy campaign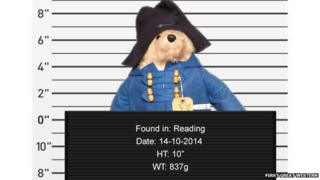 A train company has started a campaign to help reunite children with their lost teddy bears.
First Great Western is using posters and a website with mugshots of the toys, which have been left on trains in the south of England.
Dozens are being stored in lost property offices at stations while the bulk are in a vault underneath Bristol Temple Meads station.
The firm said it hoped to return the toys in time for Christmas.
The toys have all been found travelling on the First Great Western network which covers the Thames Valley, Hampshire, London, Dorset, Sussex, Wiltshire, Somerset, Avon, Gloucestershire, Hereford, Worcestershire, Devon, Cornwall and South Wales.
The train company's website enables people to submit a search for a teddy, even if they are unable to remember exactly where it was lost.
Mike Holmes, station manager at Bristol Temple Meads said: "People need to give their name, the description of the teddy bear and its distinguishing features and we'll do a recce and see if we can find it."