JJB Sports boss Christopher Ronnie guilty of £1m fraud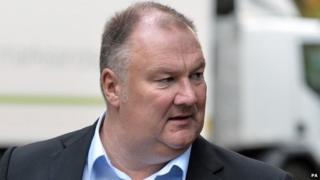 The former chief executive of JJB Sports has been convicted of accepting more than £1m in backhanders.
Christopher Ronnie, 52, of Wilmslow, Cheshire, denied fraud but was found guilty of pocketing six-figure payments from three suppliers while in charge of the sportswear firm in 2007 and 2008.
Southwark Crown Court heard he did not disclose the payments, used to buy property in Florida, to the board.
Wigan-based JJB Sports was dissolved with almost £150m of debts in November.
The court also heard Ronnie owed £11m to Icelandic Bank Kaupthing Singer Friedlander and he said he would give them documents about his loans and assets but he falsified the information.
Ronnie, who did not give evidence in his own defence, was convicted of three counts of fraud and two of furnishing false information.
Two of his business partners David Ball, 54, from Sutton, Surrey and David Barrington, 52, of Sale, Greater Manchester, were convicted of two counts of perverting the course of justice by helping Ronnie cover his tracks.
The three men will be sentenced on 12 December.
Jurors heard that Ronnie's company Seacroft received a payment of £650,000 in February 2008 from Performance Brands - a sports goods supplier with which Ball and Barrington were both associated.
In June that year he received $380,000 (£197,000) from Fashion and Sport, another supplier the pair were linked to.
A third payment, again from Fashion and Sport, was made to Ronnie later that year, this time for $250,000 (£134,000).
Ball and Barrington also covered up a series of emails relating to the loans but when the pair asked a computer engineer to wipe any trace of the emails he contacted the Serious Fraud Office.
JJB Sports was founded by former professional footballer Dave Whelan in 1971.
Whelan sold up in 2007 and his shares in the firm were bought by Ronnie. He was chief executive at the firm until March 2009.