Child abduction law proposals to close wrongful retention loophole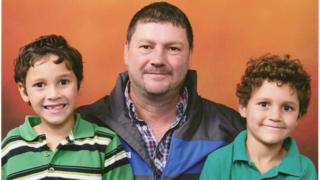 Parents who take their children abroad with their partner's permission but do not return home could face criminal charges in a proposed law change.
A legal loophole currently means that while child abduction is illegal, wrongful retention is not.
The Law Commission has now recommended it is criminalised.
Ken Spooner, who undertook a five-year court case in Zambia, said the move would have helped him bring his two boys home more quickly.
Reunite, a charity dedicated to combating international child abduction, said about 40% of all cases were actually wrongful retentions.
In such instances, Interpol cannot help parents to track down their children, extradition cannot be sought and foreign courts may side with the parent who has moved to that country.
Mr Spooner's sons, Devlan and Caelan, were taken on holiday to Zambia by his partner Zanetta Nyendwa in October 2008 but she never returned.
It took him almost five years to win his case to bring them home to Watford.
He said: "It would send out a very clear message that it is not just morally wrong, it is a crime.
"Zanetta thought she had not done anything wrong. Had it been clear she had committed a crime she may have taken a different view."
Level of child abduction and wrongful retention
•Last year 486 children were removed from England and Wales
•Of those, 212 were wrongfully retained
•To date in 2014, 498 have been removed
•196 of those were wrongfully retained
Source: Reunite International
Reunite's Chief Executive Alison Shalaby said: "People take their children abroad believing there are no consequences.
"If they were to get a call from the police saying you have committed an offence, bring your child back and we will not take action that could see them coming home pretty quickly."
Prof David Ormerod QC, law commissioner for criminal law, said wrongful retention "can have a devastating effect on all involved".
The proposals will be debated in the House of Commons within the next year.