Santa's crew: Should reindeer be used in Christmas displays?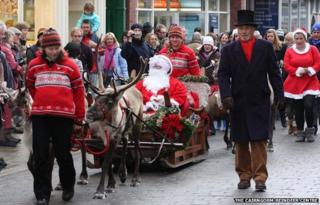 Rudolph's relatives are a common sight at Christmas displays across the country but how ethical is it to use them in the lead up to the festive season?
There are thought to be about 1,500 reindeer in the UK, with hundreds imported in recent years, mainly from Scandinavia.
However, experts say they are unclear how many are actually used in Christmas displays.
Animal charity, the RSPCA, says it is "very concerned" about reindeer being used for entertainment purposes as it is difficult to "achieve good welfare in a performance environment".
The People for the Ethical Treatment of Animals (Peta) believes busy shopping centres "filled with noisy shoppers, bright lights and excited children, are entirely unsuitable environments for reindeer or any other animals".
Ben Williamson, from Peta, said: "The whole phenomenon of taking reindeer out on the road, putting them in pens and treating them as if they were just Christmas decorations is unacceptable.
"We should not be encouraging such an unethical and abusive trend."
The species is "notoriously difficult" to look after and can suffer from a number of health problems.
Keeping reindeer
Reindeer need social companions, space and specialist care
Problems found in UK reindeer include poor muscle development, poor antler growth, malformed antlers, a lack of weight gain, weight loss, diarrhoea and poor breeding success
As a prey animal, they can be very good at hiding stress and problems often manifest some time after the stressful event
Transportation and mixing of groups can cause stress and animals should be kept locally to minimise transport and given an adequate rest period
The handler should have experience in the care of reindeer and be able to interpret their behaviour
Animals should be given regular rest breaks away from people
Reindeer hooves are adapted to compress snow, but on slippery hard floor they would be prone to slip especially if pulling a sleigh
Great care needs to be taken to make sure they are kept in a suitable environment and their exposure to the stress of big crowds and noise is kept to a minimum
Source: RSPCA
But Dr Mark Dagleish, president of the Veterinary Deer Society, said: "As long as the reindeer are trained and habituated to humans, the main problems arise during the months outside the Christmas period."
He said the species required a very large territory, was easily stressed and suffered from fatal parasitic infections.
"We've had lots of queries from people who are having trouble keeping reindeer and the first thing we tell them is that reindeer shouldn't be kept, unless you have a very large area such as a mountain range."
Dr Dagleish said the queries were from new owners, rather than experienced handlers.
He added a number of vets also contacted the society as they were not used to dealing with the species.
Reindeer in numbers
Between 2005 and 2013, there were 90 shipments of reindeer imported to the UK, a total of 1,168 animals
Most came from Sweden and Finland
There is no formal requirement for the animals to be recorded on any official database, so the exact UK population is unknown but is estimated at about 1,500
In the past 12 months there have been 11 shipments of reindeer from Sweden and Finland, a total of 230 animals
It is unlikely the animals are caught in the wild, with most thought to come from farms and parks
The specific reason why reindeer are imported is not required on the documentation
Source: Animal and Plant Health Agency
Tilly Smith, director of conservation at The Cairngorm Reindeer Herd, said there was a problem with the welfare of captive animals as people were "dabbling in reindeer".
"The only people that have really benefitted in this trade are the animal dealers who import the reindeer and sell them on, often to people who are hoodwinked into keeping them and misinformed by the seller as to how easy they are to keep."
Ms Smith, who has about 150 reindeer which live in the Cairngorms and surrounding foothills for most of the year, said she understood animals were imported to supply demand from garden centres, smallholders and private individuals.
"Reindeer were domesticated in their natural environment which is why our herd in the Cairngorms is successful."
Ms Smith said she believed it was ethical to use reindeer in Christmas displays if they were kept appropriately and the owners were transparent in how they kept them for the rest of the year.
She said that leading up to Christmas her teams were away for a maximum of 18 days.
"Throughout the UK, we have temporary bases where a team can stop off as they 'hopscotch' down the country.
"We only do this type of work in the run up to Christmas and for the rest of the year, these trained reindeer are out on the mountains with the rest of the herd."
Reindeer are protected by the Animal Welfare Act 2006, which makes it an offence to cause them unnecessary suffering or to fail to ensure their welfare needs are met.
In 2013, the Farm Animal Welfare Committee (FAWC) which advises the government, recommended the welfare of reindeer should be considered further as the species was "likely to be kept by inexperienced owners for commercial purposes", a recommendation the RSPCA said it supported.
In response, the Department for Environment, Food and Rural Affairs (Defra) said: "We take all FAWC recommendations seriously and consider the committee's advice when developing policy and guidance.
"We are very clear that reindeer are protected by animal welfare laws and require a high-level of specialist care."
A spokesman from the government's Animal and Plant Health Agency said it did not have any figures to show how many imported animals had died or had become ill after arriving in the UK.
It said it was not aware of any prosecutions relating to reindeer welfare in the past few years, but added the relevant local authority would enforce any action.