Nurse sues Surrey hospital over sister's death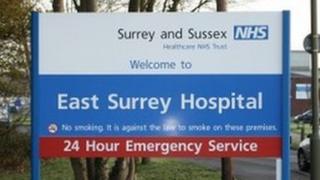 A nurse is suing the NHS for £250,000 after witnessing the death of her sister following hospital blunders.
Lucia Sharma, 37, from Crawley, West Sussex, died in May 2009 after East Surrey Hospital in Redhill failed to spot a brain haemorrhage.
Julie Shorter, 52, said nothing had prepared her for the "sledgehammer" emotional blow when her sister's life support machine was switched off.
Surrey and Sussex NHS Trust has admitted making medical errors.
On 5 May 2009, Mrs Sharma was admitted to hospital for two nights but a CT scan failed to detect a subarachnoid haemorrhage - a type of stroke caused by bleeding in and around the brain.
She was pregnant with her third child.
On 12 May, the hospital spotted the error and asked her to return urgently. She was then transferred to St George's Hospital, Tooting, but died the following day.
Mrs Shorter, a senior sister in a neurological care unit, is suing the Surrey and Sussex NHS Trust over "psychological injury", which she said she suffered after witnessing her sister's death.
'My worst fears'
The High Court was told Mrs Shorter's understanding of medical matters made the experience even more traumatic.
She told the court she had been left "heartbroken" by the loss.
Mrs Shorter said: "I was very frightened, but I didn't want that to come across to Lucia - she was frightened enough.
"It hit me like a sledgehammer. I felt sick and horrified."
The court was told Mrs Shorter still experiences chest pains and flashbacks.
The trust denies liability for Mrs Shorter's mental injuries, saying that Lucia's death was a "gradual drawn out process".
It said witnessing Mrs Sharma's death was not "shocking or horrifying" enough to trigger such an extreme response.
The hearing continues and is expected to last three days.