Flood victims 'struggling to cope' with soaring insurance bills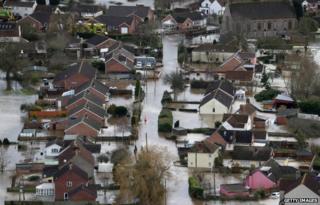 After last year's wettest winter on record, many of those whose homes were damaged by flood water are struggling to pay their soaring insurance bills.
Philip Maye had just finished renovating his home on the Somerset Levels when the flood hit. The water was more than 3ft (1m) deep and remained for three weeks. It was a nightmare for the 63-year-old and his wife Maria, but the financial pain was only just beginning.
Months after the country was battered by a series of ferocious storms, many of the victims are facing "impossible" insurance bills. Some, like Mr Maye, who was flooded in February, cannot even get a quote for flood cover.
"We lost a lot and have had to replace it at our own cost. We live in trepidation every time it rains and everyone [in the area] has horror stories about insurance going up," he said.
Their experience is typical on the Somerset Levels.
Rod and Jo McDonagh, from Muchelney were flooded for 10 weeks with the repair bill totalling £130,000. Since then, their insurance costs have risen from £5,000 to £9,000.
Mrs McDonagh, 45, said it "utterly baffled" her why the price had increased as millions of pounds had been spent on flood defences since the storms.
"We're victims of the flood and now of the insurers," said Mr McDonagh.
After complaining about the costs, the premium was eventually reduced to £7,200, but their excess has doubled from £14,000 to £30,000.
Mary Dhonau, OBE and a national flood campaigner, said she had been contacted by hundreds of flood victims concerned about their insurance bills.
"Your home is your castle and you want to protect it. Affordable flood insurance is difficult to find, but not impossible."
She said victims were unwilling to speak out for fear of making their properties unattractive to buyers.
One woman, who wants to remain anonymous, lives near the River Thames in a village near Staines.
"We flooded on 11 February and only moved back in in the middle of November.
"About 3in (8cm) of water came up through the floor and there was a lot of damage downstairs."
The woman's insurance costs increased from £455 with an excess of £2,500 for flood cover in 2013, to £3,455 with an excess of £12,500 for flood cover this year.
"I was shocked by the whole thing, but I had to pay it," she said.
"I've lived here since 1995, and water has been outside the house, but it never came in."
The National Flood Forum said it had seen a "huge increase" in the number of insurance related calls with a "big rise in the number of people struggling to get insurance at all".
Price rise or not?
The price people pay for their flood insurance cover will depend on several factors including the level of the flood risk in their area, and their previous flood claims record
If the risk increases, the price has to reflect it
Home insurance is a competitive market so premiums and excesses will vary between insurers
Insurers want to do all they can to ensure competitively priced home insurance
Flood defence improvements will be taken into account
Insurers might also discuss with individual homeowners steps they could take themselves that would reduce the flood risk or reduce the scale of any damage to their home if flooding occurred
A new scheme called Flood Re will be introduced in 2015 which should ensure flood insurance is widely affordable and available.
Source: Association of British Insurers
Back on the Somerset Levels, Dee Puplett, 38, from Moorland, has been unable to find an insurance company willing to take her on since her home was flooded for three weeks in February.
"We've got five children and I don't like having no insurance, it's frightening," she said.
Ms Puplett, who has lived in the property for seven years, said: "No one wants to claim on their insurance, but we had no warning when we flooded and had little chance of saving our belongings.
"This year we have a contingency plan, but we're being hit by the insurance companies."
In other parts of the country, householders have been luckier.
Rachel Murray, 41, from Hildenborough, in Kent, was flooded on Christmas Eve.
She said: "We had just come back from a pantomime to discover we had been surrounded by water and it started to come in a couple of hours later.
"We had to move the guinea pigs into the bath because the garden was underwater."
The family had to move out of their home for more than six months, but their insurance bills this year only increased by £100.
The Association of British Insurers said the cost of flood insurance cover reflected the risk of flooding and the owner's previous flood claims record.
It said insurers would take into consideration any flood defence improvements which could reduce the risk.
Insurers want to make flood insurance as widely available and affordable as possible, despite the UK's rising flood threat, the association added.
Despite the claims, flood-hit communities - insured or not - hope last winter's ferocious storms were an exception, and 2015 will not be another year of rented accommodation, expensive repairs and lost personal belongings.
Source: BBC News and the Met Office