Buyer chosen for MoD's Defence Support Group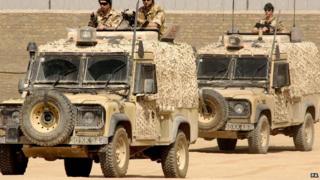 A private buyer has been chosen to take over the Ministry of Defence (MoD) repair and maintenance division.
Engineering firm Babcock is the preferred bidder for the ministry's Defence Support Group (DSG) land business, the government said.
The group, which services military vehicles, was put up for sale by the government in March.
On Monday, DSG workers began a four-day walkout over their "uncertain future" and a "derisory" 1% pay offer.
Defence under secretary Philip Dunne, who announced the selection, said DSG's air division, the Electronics and Components Business Unit (ECBU), would be retained by the ministry.
It will become the Defence Electronics and Components Agency (DECA) from 1 April, the same day Babcock's takeover will be completed.
The DSG, headquartered in Andover, Hampshire, employs 886 workers at MoD Donnington, Shropshire, and 430 at Bovington, Dorset, a spokesman said.
Other sites affected by the sale include Catterick in North Yorkshire, Colchester in Essex, Warminster in Wiltshire, Ashchurch in Gloucestershire and Stirling.
ECBU sites in Stafford and Sealand, north Wales, will not move when the unit becomes DECA, the spokesman said.