BT 'sorry' for cutting off Cheshire village again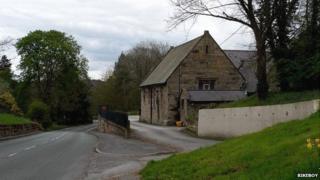 BT has apologised for cutting off a Cheshire village for two weeks during cable repairs.
It's the second time Ashton Hayes, near Chester, has been affected. Residents said phone lines were disconnected for six weeks in the summer.
In the latest incident, some homes have been reconnected but with intermittent or crossed lines.
Speaking on behalf of local network provider Openreach, a BT spokesman said all lines should work by Friday.
He added problems were found when cable was being replaced earlier this week due to water damage.
"This type of fault is difficult to detect, which is why it has taken some time to do the repairs," he said.
"We are sorry that the people in Ashton Hayes have been inconvenienced for the second time in only a couple of months."
Wrong number
Local resident Roy Thorn, 94, said his mobile panic alarm could not be connected to the control centre without a working phone line.
"It's rather important to me because it's saved my life on three occasions in the past," he said.
Village postmistress Helen Rimmer added the post office phone had been out of action for two weeks.
"My pay station is worked from my phone line and, because it's dead, I have been unable to give people gas and electricity top-ups," she said.
Jean Davies, who also lives in Ashton Hayes, said she keeps getting calls intended for a local gardener after her phone was connected to his number.
"I had a lovely conversation with his mother the other night," she admitted, adding she had no idea where calls to her have ended up.
BT recommended residents contact their communications providers for updates.