Tania Clarence: Family 'clashed' with care professionals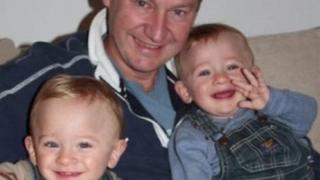 The family of three children smothered by their mother endured a "fundamental tension" with social services and medical staff, a court has heard.
Tania Clarence, 43, admitted killing twin boys Ben and Max, and daughter Olivia, aged four. All had the muscle-weakening condition SMA type 2.
Mr Justice Sweeney told the Old Bailey that Clarence had been "overwhelmed" by caring for the children.
She was detained under a hospital order.
The court heard that while the family's attitude was towards palliative care the medical world recommended invasive treatment, which prosecutor Zoe Johnson QC said created a "fundamental tension".
On one occasion, Clarence said: "Gary and I do love our children just not in the way you want us to."
This clash of ideals led to the involvement of 60 professionals with doctors considering "child protection measures on the basis of neglect".
'Over-stretched'
In May 2011 a doctor noted that Clarence was "seriously over-stretched/under intolerable strain" from all the medical appointments.
Before the killings the mother had been resisting a gastrostomy - an opening in the stomach to help provide nutrition - to Olivia.
The dispute coincided with the appointment of an inexperienced social worker who replaced a woman considered too close to the family.
At a meeting in March, the new social worker presented Clarence with a list of subjects for discussion including gastrostomy and her mental health, which the court heard she found "overwhelming".
Mr Clarence urged "tact" and agreed to a gastrostomy for Olivia, but at the same time Kingston social services called a meeting to discuss the possibility of instituting child protection measures.
Serious case review
A further meeting held on 16 April saw the social worker suggest gastrostomies for the twins.
Six days later they were dead.
During sentencing Mr Justice Sweeney said the conduct of the health professionals and social workers involved and the effect on Clarence's state of mind was an "important factor".
The Clarence family solicitor, Richard Egan, said her depression was "not assisted by the constant pressure placed on the family" by some medical professionals and social services.
Kingston Borough Council said: "Throughout the lives of the children, we sought to work with partner agencies to ensure that the Clarence family were fully supported.
"This was provided through a range of services including therapies, care support into the home and direct payments to the family to assist with the costs of their nanny."
The council added that it was conducting a Serious Case Review into the circumstances surrounding what happened.