Tania Clarence sentenced for children's manslaughter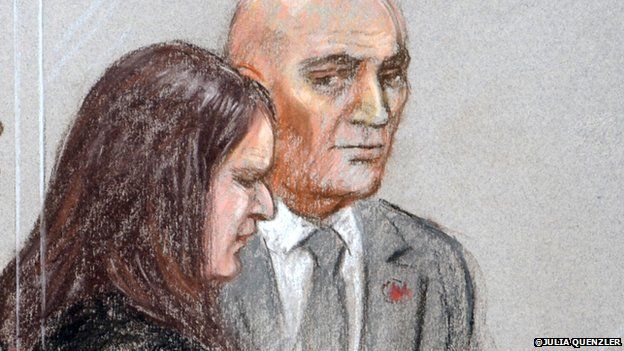 A woman who killed three of her children by smothering them has been detained under a hospital order.
Tania Clarence, 43, of New Malden, south-west London, admitted the manslaughter of three-year-old twin sons Ben and Max, and daughter Olivia, aged four, due to diminished responsibility.
The children, who all had type 2 spinal muscular atrophy, were found at their home on 22 April.
She was sentenced at the Old Bailey.
A person is detained as opposed to jailed if a court deems the individual has a mental disorder which needs assessment or treatment.
Mr Justice Sweeney told Clarence she would not be released until she had recuperated from her illness.
He told the court she had a history of mental illness and was vulnerable at the time but had been of previous good character and there was "clear and convincing" evidence she was suffering a "major depressive episode".
He said: "The prosecution accept that you loved all four of your children.
"Indeed, there is substantial body of evidence that they were happy and well looked after and you were grief-stricken that Olivia, Max and Ben were destined to die early and before you."
The court heard the children were found tucked into their beds with toys arranged around their heads.
During a mitigation hearing, prior to the sentencing, the court heard that after the killings Clarence took painkiller tablets and drank a bottle of wine in a suicide bid. She was discovered at home bleeding and crying.
Her husband Gary had taken the couple's eight-year-old daughter, who is not disabled, on a holiday to South Africa a few days earlier, leaving the mother alone with the other three children in New Malden.
She had given the nanny a day off.
At a previous hearing the Old Bailey heard that doctors dealing with the family had raised concerns about neglect.
Prosecutor Zoe Johnson QC, told the court up to 60 professionals were involved in the care of Clarence and her children, sometimes visiting the family home unannounced.
The court heard doctors were considering "child protection measures on the basis of neglect" and there was a "fundamental tension" between the couple and medical staff over care recommendations.
Mr Justice Sweeney added that while the Old Bailey was "not the forum" to judge the conduct of the health professionals and social workers involved, the effect of their actions on Clarence's state of mind was an "important factor".
Outside the court Clarence's solicitor Richard Egan read a statement on behalf of the family which said his client had been overcome by a "daily struggle" and "ultimately her story of dedication and love, became a story of despair and utter hopelessness".
He said "lessons need to be learned" from the tragedy.
"Tania's depression was certainly not assisted by the constant pressure placed on the family by some individuals within the medical profession and social services who could not agree with Tania and Gary Clarence's stance of prioritising quality of life for their children and who were not readily willing to submit the children to operations and other interventions that they felt were not appropriate in the circumstance," he added.
He said Mr Clarence was assisting Kingston Borough Council in their serious case review of the case but wanted to make clear that allegations of neglect had been "wholly unfounded".
In response, Kingston Borough Council said: "Throughout the lives of the children, we sought to work with partner agencies to ensure that the Clarence family were fully supported.
"This was provided through a range of services including therapies, care support into the home and direct payments to the family to assist with the costs of their nanny."
Mr Egan added that Mr Clarence had stood by his wife throughout the trial and would continue to do so during her hospital stay.
Spinal Muscular Atrophy (SMA)
A genetic disorder that affects nerves responsible for muscle function
It causes the muscles to waste away over time, which can lead to skeletal deformities, such as abnormal curvature of the spine, and problems walking, eating, drinking and breathing
It is rare, affecting one in every 6,000 babies born in the UK
However, the most common of the three forms of SMA is the most severe, and usually proves fatal in a child's first year
Children with a milder form of the disorder can live to adulthood
The mildest form of SMA does not usually affect life expectancy
Related Internet Links
The BBC is not responsible for the content of external sites.