Heart unit event held in Leeds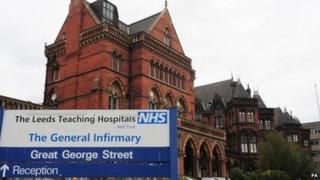 A meeting to discuss the future of children's heart surgery at a West Yorkshire hospital has been held in Leeds.
The Children's Heart Surgery Fund charity is running a series of events across the region in November.
It comes after a review was launched into the future of children's heart surgery in England in September.
It was set up after a report suspending operations at Leeds General Infirmary's heart unit was found to be flawed.
At the events, people will be asked for their views on the new consultation being led by NHS England.
'Invalidated and incomplete'
Sharon Cheng, CEO of the fund, said: "We encourage as many people as possible from across the region to attend these events and feedback their views.
"It's vital that those who have supported our service and fought hard to keep it open understand what NHS England is proposing, how these new standards will affect them and what they could mean for services in the future."
Operations at the hospital's unit were halted in 2013 when NHS England raised concerns about mortality rates.
The suspension came a day after a decision to stop children's heart surgery at the hospital - as part of an England-wide reorganisation of services - was quashed in the High Court.
However, surgery resumed 13 days later after an investigation revealed the data was flawed.
A report last month said the decision to suspend children's heart surgery in Leeds was based on "invalidated and incomplete data", but made "in the interests of patient safety".
Further events will be held in Hull, Bradford and York throughout November.