Coventry leader Ann Lucas backs 'super council' plan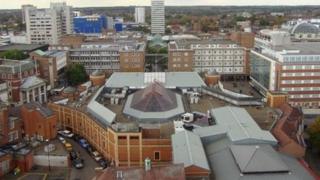 Coventry would miss out on millions of pounds of investment if it is not part of a "super council", its leader says.
Birmingham and four Black Country authorities announced plans last week to form a combined local authority and urged Coventry, Solihull and Warwickshire to join.
The aim is to work together to attract investment for jobs and transport.
Coventry City Council's Ann Lucas said the authorities would "be invincible" together.
The Labour councillor said if Coventry did not join it could "be squeezed with no monies coming our way" as government looks to support authorities working together.
"If we combined, not merged, it would make us the biggest combined authority outside London," she said.
As Conservative opposition urged caution, she said the final decision on whether to join would not be made until after meetings with Warwickshire councils, proposed for early December.
"We will make the decision based on what's right for Coventry and we'll do it in our own time," she added.
Councillor John Blundell, the leader of the Conservative in the city, said: "Coventry could be isolated if we went in on our own [without Warwickshire].
"I want not just an invitation but also compelling reasons. It can be Birmingham-centric and we have to be very careful."
'Swallowed up by Birmingham'
No existing councils would be dissolved as a result of the combined authority, which could be formed by Birmingham, Dudley, Sandwell, Walsall and Wolverhampton authorities even if no other councils join.
The leaders said they would form a board to collaborate and the business of local government, including elections and setting council tax rates, would be unchanged.
Jerry Blackett, chief executive of Birmingham Chamber of Commerce, said: "This isn't about Coventry being swallowed up by Birmingham.
"It is simply the leaders... agreeing on our priorities."
Bob Sleigh, leader of Solihull Council, said his authority was also "open to discussions".
Plans for the combined authority - with or without Coventry, Solihull and Warwickshire - are expected to be produced by April and could be approved before 2016.