Comedy characters find their voice on Twitter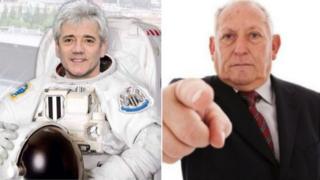 Twitter has broken major news stories and prompted countless controversies, as well as keeping users up to date with the minutiae of friends' and strangers' lives. But it is also giving voice to a whole range of new comedy characters from unknown writers who now attract thousands of followers.
The year is 2019. Earth has been decimated by pestilence and war. Mankind has attempted to colonise a distant planet where football legend Kevin Keegan has set up a training academy.
This is the premise behind one successful Twitter comedy character Galactic Keegan, who has gathered some 35,000 Twitter followers, including Gary Lineker, in less than a year.
"It's incomprehensible to me that someone like that [Lineker] would even give it the time of day, so I'm still pinching myself," says the character's creator Scott Innes, 30.
Even the real-life Keegan is amused. TV channel beIN Sports recorded him reading out some of his galactic namesake's tweets and laughing.
Innes was "gobsmacked and totally thrilled" when he found out.
"I'd always worried that when he found out about the account he might be insulted and want to shut it down, so for him to go completely the other way and embrace it just proved he was every bit as good a man as I'd always imagined him to be," he says.
Comedian Bob Mortimer is another fan. So, too, are Peep Show and The Thick of It writer Jesse Armstrong, and Alan Partridge co-writer Neil Gibbons.
The idea for the character came when Innes pondered what had happened to Keegan after he resigned as Newcastle United boss in 2008. Soon he was imagining him managing a team deep in outer space and - within half an hour- he had come up with the idea for the Twitter account.
But Innes is not a professional comedy writer. He works for the NHS and lives in south-east England "with my wife and my cat".
Admitting to "terrible shyness and self-consciousness", he has found Twitter a great arena for comedy. Trimming jokes to fit its 140-character format often improves their rhythm, he finds.
He makes no money from Galactic Keegan - "first and foremost, I do it to entertain myself" - but has dreamed of turning his tweets into a book.
"I sometimes think it'd be quite well-suited to a radio comedy, too, but, needless to say I don't expect any of this to actually happen. But it's nice to let my mind wander and sit there thinking 'what if?' on the bus to work every morning."
Innes is one of a number of ordinary people using social media as an outlet for their comic talents.
---
Some other comedy characters on Twitter
USA Soccer Guy Followers: 370,000. Sample tweet: "GOALSHOT! Dwayne Rooney instantly shuts up the Nessies. #threelines"
Boring James Milner Followers: 361,000. Sample tweet: "Great win at Southampton today. Now to get back home and test all my smoke alarms before bed."
Boring Tweeter Followers: 231,000: Sample tweet: "I've just read the Christmas bin collection dates. The council haven't let me down. Great rescheduling."
Sixth Form Poet Followers: 141,000. Sample tweet: "If a friend says 'pictures or it didn't happen', murder him and don't take any pictures."
Self Righteous Band Followers: 4,348. Sample tweet: "Jason Orange is sitting our written exam for percussionists. He's nice, I helped him on the Spotify question (answer: It's suffocating us)"
---
Established writer and performer Karl Minns believes using Twitter for character comedy "makes absolute sense".
"Normally, to develop a character you would have to write a lot: five minutes' material, then an open-mic night, then rewrite," he says.
"With Twitter, it's 140 characters in-character, and if it's good it gets retweeted, and hundreds of thousands of people have enjoyed it.
"In one tweet you can reach a bigger audience than the biggest comedians in the UK will play to in a year."
Minns, who writes for Russell Howard's Good News, is one half of The Nimmo Twins and is currently writing his one-man show, Raining Diamonds.
"Had Twitter been around when I started, I almost certainly would have started writing jokes in character."
He believes many of Twitter's funniest people are relative unknowns, rather than established comics.
"When you are starting out you have nothing to lose. You don't self-censor; you just chuck it out and see what happens," he says.
"If it just goes into the ether nothing is lost, but when you have a reputation and a name you can create a storm."
Many established comics are also reluctant to give jokes away for free, he says. "Most people are capable of coming up with the odd pearl on Twitter. Getting people to pay for your comedy is a different animal, but cream rises to the top."
Journalist and writer Saul Wordsworth has managed it. His debut comic novel Alan Stoob: Nazi Hunter was published in October. His character, a 78-year-old retired detective, was developed on Twitter and still tweets daily.
Inspiration came partly from his late father, Christopher, a critic, writer and "myth-maker" who fought in the war and liked to tell his impressionable son that Hitler was still alive.
When he was 19, Wordsworth, who is Jewish, read "Justice, Not Vengeance" by celebrated Nazi-hunter Simon Wiesenthal. It had a "profound effect".
Later, joking with two of his cousins about jobs that were "less and less valid", someone mentioned "Nazi-hunter". For Wordsworth, 42, of north London, it was a "lightbulb" moment.
"I was sure there was some comedic value from this career that's really on its last legs," he says. Looking for a "mundane" setting for Stoob's Nazi-hunting, Wordsworth settled on Bedfordshire, near his own childhood home of Harpenden, Hertfordshire.
He set up a website "purely for my own enjoyment", then a Twitter account. Replies and retweets from famous devotees such as Charlie Higson, Alison Moyet and Dara O Briain helped boost Stoob's profile, and he now has about 11,000 Twitter followers.
"I've certainly had my help along the way but it's a slow process," he says. Keen to monetise his creation, he hit upon the idea of a novel.
"Twitter gives you the time and space to develop the character over a period of weeks, months, even years," he says. "As a sounding board you get a sense quite early on if people are digging the idea; whether they're laughing, retweeting, interacting.
"If they are, there's a fair chance you'll have an audience if you try to convert a Twitter persona to fiction or to television."
Although the book is clearly a spoof, the subject at its heart could hardly be more sensitive, but Wordsworth feels it should not be off-limits.
"I haven't gone out of my way to be controversial. These are issues that are very important to me," he says, stressing that he is donating 10% of the book's profits to the Simon Wiesenthal Centre.
"The only anti-Semitism in this book comes from Nazi characters, who I've painted as caricatures. In that respect I'd liken the book to 'Allo 'Allo, and I don't think anyone was offended by that."
An English screenwriter is currently working with a Hollywood production company on a movie adaptation of the book. And while he admits he's considered killing Stoob off, for now the tweets will continue. "I think maybe I should keep him alive - if nothing else, for the sake of the movie."