Are we becoming a nation of runners?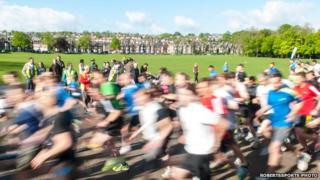 More than 2 million people in England now run regularly at least once a week, according to Sport England, and the growth in popularity does not appear to be slowing down.
BBC News spoke to British Olympian Christine Ohuruogu about her passion to get more young people running, along with others who explain how the sport has changed their lives.
---
Christine Ohuruogu, 400m World Champion
British athlete Christine Ohuruogu is currently the 400m world champion and was a silver medallist at the London 2012 Olympics.
Along with her training, the star has a personal mission - inspiring young people in her home borough of Newham, east London, to take up sport.
For two years, she has been visiting schools to talk to youngsters.
"Children are the future and I wanted to show the young people of Newham that I came from where they come from, I went to the school down the road, and I went on to run in the Olympics because I had aspirations," she said.
"It's important for me that the young people of Newham don't think that the Olympic stadium is unreachable for them, that the Games came and went, but they didn't have anything to do with them."
Ohuruogu's passion to inspire the younger generation in Newham is palpable, and she admitted that running "is my journey through life. It's what pushes me constantly, driving me to do better and be the best."
According to Ohuruogu, physical activity should be part of everyone's life sooner rather than later.
"It should be a prevention instead of a cure," she said. "You don't want to have a health scare to realise that sport should be a part of your life."
---
Cory Wharton-Malcolm, Run Dem Crew's Vice Captain
Cory Wharton-Malcolm is captain of the west London branch of Run Dem Crew - an alternative to traditional running clubs.
The club was founded in 2007 and now boasts about 250 members, a mix of teenagers and adults who run around the capital at night.
"We're creating role models using local people," he said. "Just by watching one local person running and taking part in our night runs, you're engaging with one person, and inspiring a whole community."
But why at night?
"It gives you something to look forward to, and makes running a bit more special," he said.
"Everyone else is doing what they're doing, and we're running around London."
Mr Wharton-Malcolm himself began running in 2006, after watching his friend complete the London Marathon, describing it as a "truly amazing experience".
Back then, he admits, he was "unhealthy, unfit, smoking, drinking, kebab eating".
He made the decision to run the marathon the following year, and became even more determined when a friend doubted he was capable of doing it.
"I have lost a tonne of weight and I have pulled myself out of the rut that I was stuck in," he said.
"The way I see it, once you have your running in order it's a lot easier to get your life in order.
"Succeeding at running requires a certain attitude - one that won't allow you to give up, one that requires you to dig deep. It requires discipline and structure - all tools that when applied to the rest of your life, anything is possible."
---
Hilary Wharam, group leader of Horsforth Harriers Absolute Beginners
Hilary Wharam, from Leeds, is known as Forrest Gump to her friends.
The 72-year-old has an arthritic spine, which requires pain management to allow her to run, and her consultant believes she has delayed the progression of the disease by 10 years. She said she had "never been advised against running".
Mrs Wharam began running in 1994 when she was 52 years old, winning two 10k races in her age category.
"I have been totally hooked on running ever since," she said.
Mrs Wharam is a group leader at Horsforth Harriers Absolute Beginners.
She strongly believes that running has given her "a new lease of life with no fear of ageing".
"I inspire people by leadership and racing, showing my age and arthritis need not be a barrier to fulfilment anymore," she said.
Through meticulous preparation, she completed the London Marathon - her 25th marathon - in five hours and 47 minutes.
Mrs Wharam's advice for pensioners wanting to take up running is to first consult their GP or specialist to see if they have any health problems.
To build up stamina and a consistent running routine, her advice is to "start by walking and running gently".
"Run England have running groups across England who know how to look after beginners and cope with multi-ability within their groups," she said.
---
Josh Clark, inventor of the Couch to 5K app
Couch to 5K is a running programme designed to help novices get into running. The plan is backed by the NHS and involves three runs per week, with a day of rest in between. Each of the nine weeks of the programme has a different schedule.
"I used to hate running," said Josh Clark. "Every time I tried it, even as a reasonably fit 20 year old, it felt terrible.
"For a few months in my early 20s though, I found myself determined to become a runner. When I finally became a runner, I wanted to share with others this secret I discovered: running doesn't have to suck. Anybody can do it.
"I actually wrote the couch to 5K program with my mum in mind. She was 50 and didn't exercise but wanted to do something for her health.
"This is a programme that nearly anyone of any age or fitness level can do. It's not about running a specific speed or distance, but just gradually increasing the amount of time that you jog.
"Even now, I find that hardest part of running is just getting out the door. Once I'm out there, it feels great, and I'm glad I did it, but sometimes it's just hard to get your body moving.
"One of the best ways to overcome that inertia is to have a sensible programme that fits your fitness level. When you have that, you discover that exercise can actually be pleasant, not a drudgery."
---
Caroline Stevenson, mother of three
Caroline Stevenson, 35, began running last year for the first time.
Wanting to lose weight with her friends, she downloaded the Couch to 5K app on her phone, and four weeks later, joined the Run England Cogges group.
She has since lost 3st, completed 5K and 10K races, a triathlon and a half marathon.
"I have very much caught the running bug," she said. "Aside from buying yourself a decent pair of running shoes, there is very little cost involved."
Mrs Stevenson, of Finstock, Oxfordshire, said running had "changed my life".
"I was always exhausted," she said. "I was obese and felt uncomfortable in my own skin. I never thought I had the time to exercise.
"I always thought runners were mad and that it was most certainly not for me - but my perceptions have totally changed. "
---
Top tips for running
A lot of people think they should run to get fit, but actually you need to get fit to run
Walking is a great initial step towards running and most people should start there
The injury rate for running is somewhat higher than other exercise types. Common injuries from running include muscle strains and lower back pain
To avoid injury, runners should train within their capacity, progressing steadily rather than making big jumps in speed and mileage
They should also perform movement and strengthening exercises to prepare their bodies for the challenge of running
Running can reduce the risk of non-communicable diseases such as diabetes, coronary heart disease and high blood pressure, as well as helping with conditions such as depression
There are lots of training plans available for people depending on their ability and goal
Source: Dr Joseph Lightfoot, member of the Sports and Exercise Medicine Council at the Royal Society of Medicine
---