Thames Valley Police officer job cuts amid £45m savings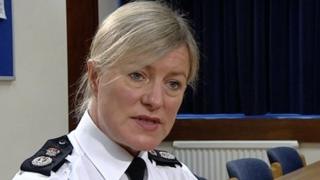 A total of 147 Thames Valley Police officer posts will be lost as the force tries to make £45m savings.
It confirmed 94 training posts would be moved out from the force while 53 officer positions would be converted to support staff roles.
The force intends to make the savings over the next three years.
Chief Constable Sara Thornton said the cuts would not impact on front-line numbers and the force was committed to finding other ways of reducing costs.
'Fat cut'
The force clarified that the 94 training posts were previously counted as part of officer numbers, even though they were permanently in training and not available for operational duties.
The other 53 position to go are roles that do not require police powers and can be carried out by support staff, it said.
Graham Smith, the chair of the Thames Valley Police Federation, expressed concern about where future savings would come from.
"Every single department within Thames Valley Police has saved money over the years," he said.
"All the fat has been cut from the carcass, so we are looking at cuts potentially to real front-line policing in the future."
Part of the initial training will be moved out of the police service to save about £2.8m - the equivalent of the 94 posts.
Thames Valley Police said it had already identified savings of £58m from 2010/11 to 2014/15 through restructuring and reducing non-staff costs.
It said a further £24m of savings had been identified and work is continuing to find the remaining £21m.