Sir Stanley Matthews FA Cup medal sells for £220,000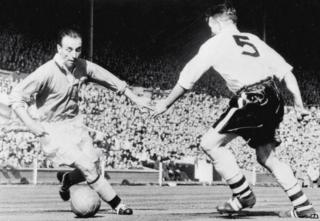 The FA Cup winner's medal won by Sir Stanley Matthews in the famous 1953 final has been auctioned for £220,000.
Jimmy Greaves' medal, won for being part of England's 1966 World Cup-winning squad, sold for £44,000 in the same London auction.
The Matthews medal was sold on behalf of Nick Hancock, former presenter of BBC TV's They Think It's All Over, who bought it for £20,000 in 2001.
Greaves, who did not play in the World Cup Final, received his medal in 2009.
Sir Stanley's medal sold for nearly four times its £60,000 guide price.
"I am very, very happy with the sale. I was watching on the internet at home - I think I would have keeled over if I was in the auction house," said Hancock.
A Stoke City supporter, he had loaned the medal for the last five years to the club, where Sir Stanley began and ended his career.
Greaves, 74, missed out on a medal because - until the 1974 World Cup - only the 11 winning players on the pitch at the end of the final received the award.
The prolific goalscorer, who played for Tottenham at the time of England's World Cup triumph but also starred for Chelsea and West Ham, had been injured early in the tournament and lost his place.
---
Three Lions sell-off
Right-back George Cohen was the first of England's 1966 World Cup-winners to sell his medal following financial problems in 1998. His former club Fulham bought it for £80,000.
Nobby Stiles' medal was previously the highest-priced, selling for £188,200 in 2010. Manchester United bought it for the club museum.
Only Roger Hunt and Jack and Bobby Charlton have not sold their medals.
---
A campaign led to football's governing body Fifa changing its heart in 2007, paving the way for England's reserves - and those from other World Cups - to be honoured.
Greaves and the other non-playing squad members were awarded their medals in 2009 by then Prime Minister Gordon Brown.
Another 1966 winner's medal, which had belonged to left-back Ray Wilson, raised £136,000, 12 years after the former player sold it for £80,000.
During the two-day sale of sporting memorabilia by Graham Budd Auctions, the 1926 Cheltenham Gold Cup fetched £18,000 but a race suit worn by Michael Schumacher in the 2002 Italian Grand Prix and a torch from the 1960 Rome Olympics failed to sell.