Becky Godden murder: Christopher Halliwell's former home searched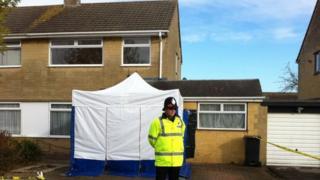 The former home of a convicted killer is being searched by detectives in connection with the murder of a woman whose remains were found in 2011.
Becky Godden, then aged 20, disappeared on 27 December 2002. Her remains were found in a Gloucestershire field.
A man who confessed to her killing was not prosecuted after a judge ruled police ignored arrest guidelines.
Police are using dogs trained to detect traces of blood and human remains, at Ashbury Avenue in Swindon.
Silver Volvo
The BBC understands taxi driver Christopher Halliwell, who admitted killing Sian O'Callaghan, lived at the address between 2005 and 2006.
Halliwell, 50, is now serving a life sentence for Miss Callaghan's murder.
Det Ch Insp Sean Memory, who is leading the investigation, said a team of more than 30 would be searching the house.
"I believe this house is connected to Becky's murder but I do not want to comment on who used to reside here at that time," he said.
Mr Memory also confirmed the current occupants were not connected to the inquiry in any way. The search is expected to take several days.
In September, police appealed for information on a silver Volvo car believed to have been in the Swindon area in 2002-03.
Police said following this appeal two witnesses came forward and provided "significant detail" which they were now looking at.
"We think we've identified who bought the car from auction in 2004 and as I speak we are trying to find the current owner," said Mr Memory.
Another search was carried out in Ramsbury in May, when more than 600 individual items were found in and around a pond where boots belonging to murder victim Sian O'Callaghan were found along with a shotgun.
Taxi driver Christopher Halliwell led detectives to Miss Godden's remains at Baxter's Farm, Eastleach, after he was arrested over the disappearance of 22-year-old Miss O'Callaghan.
The father of three admitted killing Miss Godden, but his confession was ruled inadmissible when it was revealed he was not cautioned before leading police to her body.