Burglary gang targets 100 homes across the South East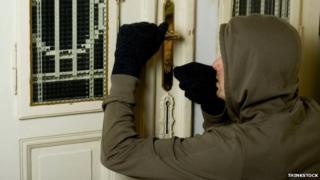 A £10,500 reward has been offered in the search for a gang thought to have carried out almost 100 burglaries in Kent, Sussex, Surrey and London.
Sussex, Surrey and Kent police are offering a total of £7.500 for information that leads to a conviction. Crimestoppers have also put up £3,000.
The burglars usually smash doors or windows to get into the homes.
At least two cars with false number plates have been used in the robberies, Sussex Police said.
A silver Audi and a blue Ford Mondeo were used to carry out the attacks, police said.
A total of 34 homes in West Sussex, 10 in East Sussex, seven in Brighton and Hove, 35 in Kent, eight in Surrey and two in south-east London are thought to have been burgled by the group.
In the most recent attacks, homes in Reigate, Horley, Tadworth, and Lingfield - all in Surrey, were burgled between 15:00 and 21:30 GMT on 4 November.