Human trafficking gang member jailed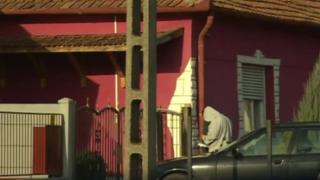 The final member of a gang who trafficked women into south-east England to work as prostitutes has been jailed for two years and nine months.
Attila Kolompar was part of a gang of Hungarian nationals and a woman from Sussex who trafficked more than 60 women in their teens and 20s.
The gang forced the women to work in hotels in Sussex and Kent and student accommodation at Sussex University.
Kolompar admitted trafficking women into the UK for sexual exploitation.
Lewes Crown Court was told he was part of a gang that made money shipping young women from an impoverished part of Hungary into the UK.
'Vulnerable women'
Kolompar was described as a chaperone who escorted women to the UK and drove them between brothels set up as far apart as Gatwick, Eastbourne, Brighton, Folkestone and Margate.
The court heard he was making at least £5,000 a month.
"This gang trafficked over 60 vulnerable young women into the UK for the sole purpose of exploiting them and making money," said Home Office immigration enforcement officer David Fairclough.
"This is a significant organised crime group that we have disrupted and put behind bars."
Five other members of the gang were jailed in January for terms ranging from three to six years after a seven-week trial.
Kolompar was arrested by Home Office Immigration Enforcement Criminal Investigations at Heathrow Airport after being extradited to the UK from Hungary in March.
Women's support charity, Brighton Oasis Project, said it was shocked at the scale of the gang's operation and the extent to which women were brutalised and abused.
"That kind of exposure over a long period of time has a lasting effect on mental health and in some cases would lead to a diagnosis of post traumatic stress disorder," said spokeswoman Jo-Anne Welsh.