Nick Clegg promises 'to tarmac' A303 if no government announcement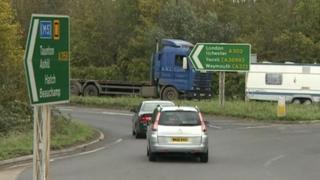 The deputy prime minister has promised "to come down and tarmac the A303 myself" if there is no announcement about it in the autumn statement.
Speaking on a visit to the West County, Nick Clegg said people had long been campaigning for the A303 and A358 to be improved.
He said it had become a bottleneck for both tourists and businesses.
"Local businesses have been telling me it's their number one ask of government," Mr Clegg said.
"We haven't decided all the details yet, but if there is not a commitment to improve the A303 in the Autumn Statement I'll come down here and start tarmacing it myself," said the Lib Dem MP for Sheffield Hallam.
The A303 runs from the south east of Basingstoke, Hampshire, to the north east of Honiton, Devon, a distance of some 100 miles (160km).