Heathrow airspace trials end early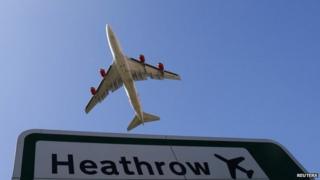 Trials of new take-off routes out of Heathrow are being temporarily halted.
The routes, being tested as part of the Government's Future Airspace Strategy, have prompted thousands of complaints from people living on the Berkshire-Surrey border.
The latest phase, affecting Ascot and Lightwater, had been due to continue until 26 January 2015.
Flights are due to return to normal on Thursday. Further trials due to start last month have also been postponed.
A statement posted on the airport's website last month said it had asked NATS to halt the trials "in light of residents' feedback".
'Reduce noise'
Heathrow sustainability and environment director Matt Gorman said: "These trials are crucial in helping us develop ways to manage our airspace more effectively and to reduce noise from Heathrow.
"We do, however, appreciate that some residents will have experienced a temporary increase in noise as a result of these trials. The feedback we have received during the trials is very important to this process."
Additional trials scheduled to start on 20 October have also been postponed until Autumn 2015.
A public consultation on the findings will be held in 2016 before any permanent changes can be agreed by government.