London to Norwich line: Upgrade could boost job creation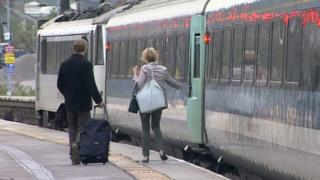 A £476m upgrade plan for rail services on the Norwich-to-London line is being considered by the chancellor.
George Osborne set up East Anglia Rail Taskforce to identify how journeys can be cut from two hours to 90 minutes.
Other journey time targets were Ipswich in 60 minutes, Colchester 40 minutes and Chelmsford in 25 minutes.
Taskforce leader Mark Pendlington said better rail links could bring 50,000 jobs. He hopes Mr Osborne will include the plan in his Autumn Statement.
Mr Pendlington said improvements could add up to £4.5bn to the local economy and help bring 50,000 new jobs, mainly to Suffolk and Essex.
"We want to attract more investment, people and jobs to East Anglia as well as getting productivity and average wages up," he said.
"The rail infrastructure is a major barrier to that growth."
The expenditure would cover new rolling stock, timetable changes and track infrastructure.
Overcrowded services
"The Chancellor's decision for this Autumn statement is simple: we ask him to confirm the infrastructure improvements needed to unlock the economic potential of the region through faster and more reliable services," said Mr Pendlington.
"Over the next decade, our region will experience considerable housing, employment and economic growth.
"Our rail service is over-crowded, the infrastructure is not resilient to failures.
"It is as quick to go 225 miles over land and sea from London to Brussels as it is to travel on the train from London to Norwich."
The Taskforce included MPs, business leaders, train operator Abellio Greater Anglia, the Department for Transport and Network Rail.