North East poll backs move of powers to local areas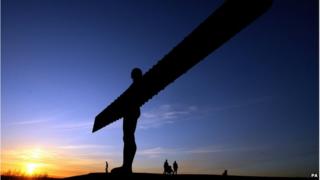 A new BBC poll suggests people in the North East are the strongest supporters of handing more power to local areas in England.
The survey carried out by ComRes indicates that 85% of people in the region favour handing powers over tax, policing and education down to more local decision-makers.
Polls did though initially suggest similar enthusiasm for devolution in 2004. But when North East voters were asked if they wanted a regional assembly, 78% rejected the idea.
Flow of talent
The poll suggests the region is the most concerned in England about an overconcentration of resources and talent in London.
ComRes conducted the phone poll of 2,943 people around England between October 17 and 27. It included about 300 people in the North East.
The findings come ahead of the broadcast of a special programme later looking at the possibility of powers being devolved to the region.
The poll suggests 76% of people in the North East do not believe Westminster politicians know what's best for the UK.
And they were worried by the power of London - 78% of those questioned said they thought too much of the country's resources were spent in the capital - the highest proportion in any region.
The poll also suggests 62% of people in the North East think the UK is being disadvantaged by a flow of talent from the regions into London - again the highest level of concern in England.
But 67% of people polled in the North East did think the UK was better off for having a strong capital city.
English Parliament
Although there was strong support for local powers, opinions on reform at Westminster were more mixed.
Around two-thirds - 65% - of those surveyed did favour only allowing English MPs to vote on English laws - 31% though opposed the idea.
And while 53% of people did favour the creation of an English Parliament, 40% were opposed.
People polled though were grateful that a majority of Scottish voters decided to reject independence in September's referendum,
Although in one question 18% said they wished Scotland had left the union - higher than any other region, in another response 87% said they were glad there had been a no vote.
The poll comes as a debate about English devolution grows.
This week, the government has announced plans to hand more power to Greater Manchester councils and Labour has also announced plans to devolve money and power to combined authorities of councils.
Greater Manchester will get an elected mayor, but the former Deputy Prime Minister Lord Prescott believes a regional assembly for the north would be a better solution.
Greater say
The poll results were welcomed though by two of Newcastle's leading politicians.
Newcastle City Council leader councillor Nick Forbes called for a greater say over how tax receipts are spent.
He said: "Around 95% of what people pay in taxes here whether on income or property goes straight off to the Treasury and then if we are lucky some of it comes back with strings attached.
"I think if we got to retain more of the taxes raised locally, people could have a say over what that is spent on. It would not only help solve our problems but it would also revitalise local democracy."
Liberal Democrat peer and former Newcastle Council leader Lord Shipley said it was time for English devolution.
He said: "We have to have the debate about where the money is coming from, what tax-raising powers we want, how will it run, and who is going to be responsible for what. But I think it is hugely encouraging that we are starting that debate."
UKIP Deputy Leader and MEP Paul Nuttall though backed plans for an English Parliament.
He said: "We need an English Parliament, with English MPs making English laws possibly with an English First Minister. On top of that we can then hand more powers to parish and town councils, and offer local referendums to people."
The poll will be analysed and discussed by an audience of voters and a panel of politicians in More Power for the North? A Look North special, on 5 November at 22.35.