Obese patient ambulances for East of England Trust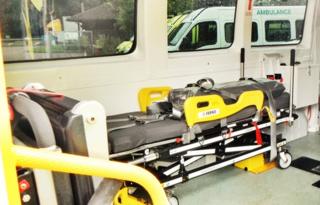 Growing numbers of obese patients has seen the NHS East of England Ambulance Service commit more than £200,000 to purchase five special vehicles.
The trust currently hires St John Ambulance to provide bariatric vehicles to transport heavy patients in Bedfordshire, Cambridgeshire, Essex, Hertfordshire, Norfolk and Suffolk.
The vehicles are able to carry patients weighing up to 70 stone (445kg).
They will be introduced in the new year, the trust said.
"Five bariatric patient transport service ambulances are being introduced... along with 16 bariatric stretchers and lifting cushions," said Chris Hartley from the East of England Ambulance Service NHS Trust.
"This will improve our service to these patients and sit alongside the availability of three bariatric ambulances provided by St John Ambulance across the region which ambulance crews can call upon to support them and their patient."
The bariatric ambulances are equipped with wider access and wider equipment.
"The 16 new stretchers can be used to carry a bariatric patient on a normal emergency ambulance as our existing fleet is capable of lifting up to 500kg," said Mr Hartley.
The trust approximates call-outs to about 1,000 bariatric patients per year.
The prevalence of severe obesity in England is predicted to rise further over the next 20 to 30 years, reports Public Health England.
It is more common in women, although the rate of increase in recent years has been higher in men.