Cpl Geoffrey McNeill murder: Soldier sentenced to life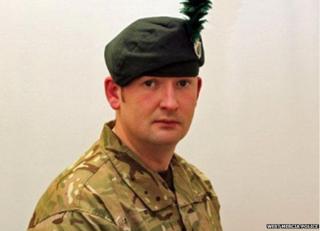 A soldier has been jailed for life after being convicted of murdering his comrade in an attack at their barracks.
L/Cpl Richard Farrell, 23, set upon Cpl Geoffrey McNeill, 32, of County Antrim, in his room at Clive Barracks, Tern Hill, Shropshire, in March.
He inflicted "a series of heavy blows", according to prosecuting QC Christopher Hotten, breaking Cpl McNeill's neck in three places.
At Birmingham Crown Court, Farrell was ordered to serve a minimum of 15 years.
In a majority decision, the jury returned its verdict against Farrell, from Dublin, a member of the Royal Irish Regiment, after 19 hours of deliberations.
'Sustained pressure'
He claimed he remembered nothing of the night's events, having drunk at least a litre of Disaronno liqueur and after having been punched by Cpl McNeill, 32, of Ballymoney, in a pub in Market Drayton earlier in the evening.
Judge Melbourne Inman QC said of that claim: "Whether that is the truth, only you will know."
Farrell told jurors he went to make amends with Cpl McNeill, but instead discovered his body in his room, blue and cold to the touch.
He said he tried to revive Cpl McNeill, who was educated in Blackpool, after discovering his body underneath a bed.
Sentencing, Judge Inman told Farrell he had carried out a "very severe assault" on the Afghanistan conflict veteran, but that was not how he killed him.
"You killed him by sustained pressure to his neck with either a ligature or manually, like some form of arm hold," he said.
In the course of the strangulation, the judge added, a post-mortem examination revealed Cpl McNeill had dug his fingernails so hard into his own neck in a bid to break whatever hold was on him, it had left marks.
'Respected soldier'
A medical examination revealed Cpl McNeill had suffered "very severe blunt force" to his abdomen, "significant blows" to his face and at least one blow to his testicles, together with a badly broken neck.
Farrell had told the court he grabbed his comrade's testicles to check if he was conscious.
The jury agreed with the Crown's case that Cpl McNeill was murdered by Farrell in the early hours of 8 March.
Judge Inman said: "I am satisfied that there is no sensible possibility you went looking for Mr McNeill for purely peaceful reasons and only reacted with such violence as a result of something that passed between you."
The judge said he was satisfied Farrell "intended to kill" and, while there was "no justification" for the victim having punched him earlier that night, the incident offered no provocation for the subsequent killing.
He also said it was clear Cpl McNeill was "obviously a hugely well liked and respected soldier".
In a statement released following sentencing, Cpl McNeill's family said: "The sentence received by Richard Farrell is not comparable to the sentence carried by those who knew and loved Geoff, for which there is no limit.
"We would like Geoff to be remembered for the legend that he was and not for the dishonourable, cowardly and brutal way in which he was taken from us all."