'Poppy hijab' to mark Muslim soldier's Victoria Cross 100 years on
By Athar Ahmad
BBC Asian Network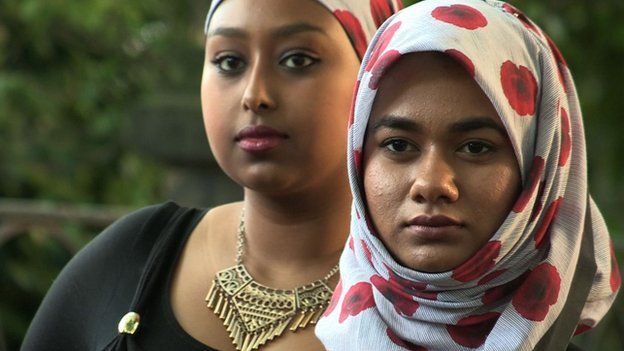 A fashion designer has created a 'poppy hijab' to commemorate the centenary of the first Muslim soldier being awarded the Victoria Cross for bravery.
Tabinda-Kauser Ishaq, a final year student at the University of Arts in London, also hopes the piece of clothing will give Muslim women a new way to mark Remembrance Day.
Born in what is now Pakistan, Sepoy Khudadad Khan was one of 1.2 million Indian soldiers and 400,000 Muslims who fought alongside British troops.
He was the sole survivor of a team assigned to defend vital ports in France and Belgium from being taken by German troops.
Despite being outnumbered, Khan managed to hold off the enemy advance long enough for British reinforcements to arrive.
"Most people don't know how many Muslims fought for Britain a hundred years ago and it's important that we join together and look back at the shared history we've got," said Steve Ballinger from the integration think tank British Future, which helped Ms Ishaq design the hijab.
The group carried out a survey tracking people's attitudes to the centenary of World War One and found only one in five Britons realised Muslims had fought for Britain - a lower level of awareness than that for the contribution of soldiers from other faiths.
"A million Muslims in Britain already wear poppies come Remembrance Day and this is another way for them to mark that; the poppy headscarf is a strong symbol of Muslim integration in Britain," Mr Ballinger added.
"Poppies are obviously the most prominent thing we associate with Remembrance Day and the hijab is something which is commonly associated with Muslims, so we married the two together to try and produce something which hopefully people see as positive," said Ms Ishaq.
The 24-year-old, who herself wears a hijab, felt it was important to create a headscarf which Muslim women would want to wear in public.
"We had around 30 or 40 designs and knew we wanted to go for something simple. Visiting the Tower of London where the poppy exhibition is currently happening helped with getting a feel for aspects like colour composition."
The designer worked alongside Islamic groups to create an item which would appeal to British Muslims and combat negative perceptions about the religion in light of issues such as fundamentalism.
"It's a way for ordinary Muslim citizens to take some attention away from extremists who seem to grab the headlines," said Sughra Ahmed, president of the Islamic Society of Britain.
"This symbol of quiet remembrance is the face of everyday British Islam - not the angry minority who spout hatred and offend everyone."
Proceeds from sales of the headscarf will go to the Poppy Appeal, and Ms Ishaq hopes the hijab will help show many British Muslims are both patriotic and proud of their religion.
"There are a lot of misconceptions that Muslims don't remember those lost in war and we really want to tackle that idea.
"We've lost innocent lives so that other innocent people can sleep easily and so Remembrance Day is something close to my heart," she said.
You can hear more on this story on the BBC Asian Network at 13:00 GMT on Friday 31st October or listen back on the BBC iPlayer.
Related Internet Links
The BBC is not responsible for the content of external sites.