HS2 station at Crewe could be hard lines for Stoke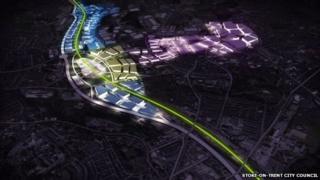 The proposed route for high-speed rail may be as straight as a die, but the sound and fury of the debate surrounding the project is full of ironic twists and turns.
While thousands of people in Warwickshire and Staffordshire have been fighting tooth and claw to have it re-routed away from their backyards (or ideally scrapped altogether) decision-makers in Stoke-on-Trent are battling equally ferociously for the route to come their way.
This would mean it would have to be changed from HS2 Ltd's preferred course through Cheshire to the corridor 15 miles to the east through the Potteries.
The explanation, of course, is the difference between the threat of the line and the promise of a station.
High-speed rail, by definition, involves fewer stations than conventional rail systems and that is one of the reasons why the project is proving to be so hard for the leaders of the main political parties to sell.
And as things stand, Stoke looks set to miss out on the HS2 station for which it has campaigned long and hard.
Ironic twists and turns
The city council say they have so far spent about half of nearly £1m of taxpayers' money earmarked for their glossy campaign, complete with video presentations and computer models.
At a Westminster event earlier this month, the council and the local chamber of commerce made a passionate plea, supported by the area's MPs, for Stoke to have a station on a site at Etruria, linked to the city's University quarter.
But now the Executive Chairman of HS2 Ltd, Sir David Higgins, has confirmed the view of his project management team that Crewe would be "a more natural location" given its strategic position so far as Wales, Merseyside and the North West region are concerned.
Stoke's Labour leader, councillor Mohammed Pervez told BBC Midlands Today he is in no mood to throw in the towel.
An HS2 station would bring in £200m worth of extra growth to the area every year, he said, whereas the absence of a station while Crewe reaped the benefits would have what he called "a negative impact" on his city of £78m a year.
Mr Pervez promised to use every Parliamentary opportunity available to challenge what he says has been a "flawed process throughout".
And the final decision will indeed be for the government to make, so HS2 Ltd's preferred route is at this stage no more than a proposal.
But when the Transport Secretary Patrick McLoughlin said he did not foresee any dramatic departures from Sir David's vision, Stoke's prospects seemed to diminish still further.
What next?
Does this leave Stoke at risk of throwing good money after bad if they press-on with what turns out to be a losing campaign?
Should they listen instead to the advice of Cheshire's Conservative council leader Michael Jones, who has been agitating equally energetically in support of the HS2 station in his county?
In a clear display of the proverbial olive branch, he is urging Stoke's leaders to work together with him to "get the best" out of north Staffordshire's promised fast link to the hub station at Crewe.
These are some of the questions I will be asking on this weekend's Sunday Politics Midlands.
Joining me in the studio will be:
Sara Williams, Chief Executive of the North Staffordshire Chamber of Commerce
Richard Burden, Labour MP for Birmingham Northfield and shadow transport minister
Chris Pincher, Conservative MP for Tamworth
Sunday Politics Midlands is on BBC One at 11:00 GMT on Sunday 2 November.