Bradford house deaths: Four bodies found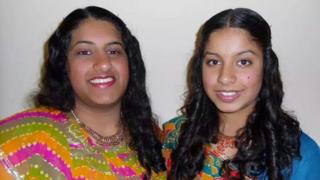 Four members of the same family have been found dead at a house in Bradford.
Jitendra Lad, 49, his wife Daksha, 44, and their two daughters Trisha, 19, and Nisha, 16, were found at a property on Blackberry Way, Clayton at about 20:30 GMT on Monday, police said.
A murder investigation has been launched but police said they were not looking for anyone else in connection with the deaths.
Officers believe the bodies may have been at the property for some time.
'Very, very sad'
Detectives were called to the house after a neighbour became concerned at not having seen the family for some time.
Jamshed Malik, who lives next door to the house, said the family who lived there were "a nice couple - a man and his wife and two kids".
"We only saw them on some occasions, not very often. I've known them for about eight years. It's very, very sad."
Flowers and tributes have been left near the property, with one card reading: "So sad. RIP."
Jessica Garside, a friend of Trisha, said: "She was so lovely. She always had a bright smile on her face.
"I feel numb at the moment. I don't feel like it's happened. I still feel like I'm going to go to the bus stop one day and she'll be stood there smiling as ever. It's heartbreaking to know she won't be. It's just horrible."
Both the husband and wife worked for Bradford council, where leader David Green said employees were very upset.
"Local people are shocked and saddened by the news of this terrible event and our sympathy goes out to the wider family, friends and neighbours of this family," he said.
The University of Leeds confirmed Trisha was in the second year of a biochemistry degree.
A spokesman said: "This is dreadful and shocking news and our thoughts are with Trisha's friends and loved ones.
"Staff are working with the University's counselling and chaplaincy services to help students who are affected by this tragedy and we will do all we can to support them."
Det Sup Simon Atkinson, of West Yorkshire Police, said: "The investigation is at an early stage, and while I do not want to speculate around the circumstances leading to the deaths I am happy to confirm that we are not looking for anyone else in connection with this incident."
Post-mortem examinations are due to take place.
Clayton is a village with a population of about 15,000 people, three miles to the west of Bradford.
Lorna Leeming, who sits on Clayton Parish Council, said: "It's a very quiet and peaceful village and a good community."