Great Eastern rail investment 'fundamental' to East Anglia economy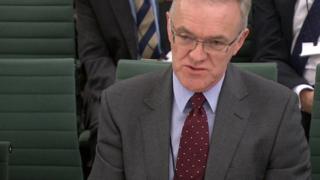 The main rail route between Norwich and London is in danger of becoming a "heritage line" unless "fundamental" investment is made, MPs have been told.
Businesses are "nervous" of relocating along the route as the service is so unreliable, said Mark Pendlington of the New Anglia Local Enterprise Partnership.
The route must become an "economic corridor," he said.
A £400m investment proposal will be handed to the Treasury next week.
Mr Pendlington, also co-chair of the Great Eastern Rail Taskforce, told the Commons Transport Committee on Monday: "I have several examples of people in world companies wanting to locate and invest in East Anglia but they are very concerned about the transport links...
"We see the golden thread of the rail line as absolutely fundamental to stimulating growth and bringing jobs and enterprise to the East Anglia region."
'Massive opportunity'
Commuters using the troubled Great Eastern line have been asked to join a campaign for more investment to allow faster trains which would cut travel times between Norwich and London Liverpool Street to 90 minutes.
Campaigners want travel times of 60 minutes between London and Ipswich and 40 minutes from the capital to Colchester, shaving some 20 to 30 minutes of current journey times.
"I have examples of passengers who are moving home because they cannot rely on the railway to get to their jobs," said Mr Pendlington.
"The passenger needs a quality journey and reliability - things that should come as standard... we've suffered enough.
"Without investment... we're turning the Great Eastern line into a heritage line where it's a great place to see a beautiful range of countryside… where the timetable can be frankly rather flexible.
"All we say to government is give us the reason to release the potential in East Anglia.
"We know if the government does that in our latest proposal which goes to government next week we can release as much as £4.5bn potential to the economy - it's a massive opportunity."