Violent mugger Sabul Miah absconds from Kent prison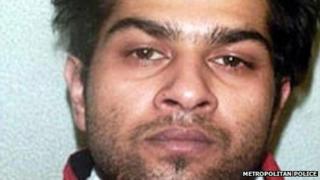 A violent mugger who attacked London pensioners to fund his crack and heroin habit has absconded from a Kent prison.
Sabul Miah, 39, was given two life terms in 2003 at Southwark Crown Court.
Kent Police said they were called to reports he had absconded from Standford Hill Prison on the Isle of Sheppey at 13:10 BST on Thursday.
Miah stabbed an elderly war veteran in the chest, knifed an 82-year-old woman in the hand and attacked three others for their pensions.
Police have urged anyone who sees him, or who is aware of his whereabouts, not to approach him, but to dial 999.