Gatwick Airport half-term congestion alert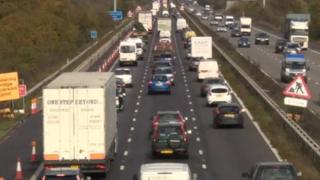 Drivers have been warned to allow extra time when travelling to Gatwick Airport during half-term because of ongoing maintenance work on the M23.
Repairs to a corroded bridge have been causing traffic tailbacks of up to seven miles (11km) on the M23 in Surrey and Sussex.
Gatwick expects about 509,000 people to travel from the West Sussex airport between Saturday and 2 November.
The Highways Agency said it was working hard to keep traffic moving.
At peak times, about 4,500 vehicles an hour use the section of the M23 between junctions eight, which joins the M25, and nine, for the airport.
Up to 64,000 passengers are expected to depart from Gatwick Airport on Saturday, with about 60,000 returning on Sunday 2 November.
Tailbacks on the M23 have a variable contra-flow system, which started in September and is due to finish at the end of November, and some night-time closures.