Downing Street Christmas tree battle at Christmas Common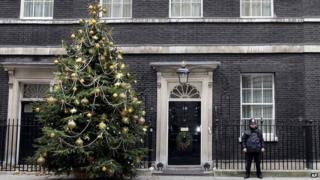 The Downing Street Christmas tree is an integral feature of festive news bulletins, standing guard outside the prime minister's residence alongside the more commonplace police officer. But how is the tree chosen? BBC News went to an Oxfordshire village where growers have fought it out for the honour of providing the tree.
"Trees are like women. If you treat the woman good and nicely, she grows nicely, as trees do as well."
That's according to Paul Bizub, a first time contestant in the national competition to have a Christmas tree twinkle proudly outside No 10 Downing Street.
The event, which plays out like the Eurovision Song Contest of the Christmas tree-growing calendar, has a similarly drawn out voting process, a parade of hopefuls, and the inevitable dashing of dreams.
For the 30-year-old Slovakian, who now lives in Surrey, "failure is not an option".
"You care about the trees, and with all the time you are in the fields with them, you can utterly catch any problems."
Mr Bizub is one of 200 enthusiasts from all over the country who have flocked with their prickly wares to the place where it literally is Christmas everyday.
Greenfield Farm, in Christmas Common, is owned by Andrew Ingram, who nurtures field upon field of Norway Spruce and Nordman Fir for the living rooms of the Christmases Yet To Come.
"Christmas tree growers are very lovely people, they're not aggressive and grumpy and we all get on very well," he maintains.
"But there's no doubt at all that we want to win. However, we're very gracious with it."
Everyone here shares the same dream, and former winner Mr Ingram has lived it.
"It's not every day you get to meet the prime minister," he said of his Downing Street adventure.
"In walked David Cameron. He was very interested. He knew Christmas Common. He said 'I used to walk my dog there'.
"And it's great for us chaps, we're almost by definition country lads, from the depths of the countryside, and to have a private viewing like that was an enormous privilege and one of the most memorable days of my life."
Charlie Reynolds, the competition's youngest entrant at 19, has run his own Christmas tree retail outlet in Keele, Staffordshire, since he was 16.
He sold his first tree at 10, when he helped out at his dad's business.
He said: "Me and my brother were choosing the tree last night, walking around with a little handsaw, and he said 'We have to win', because he wants to come to Downing Street. He's 10.
"It would be such an honour to go and maybe have the opportunity to meet the prime minister.
"I couldn't think of anything better than putting up a tree at Downing Street," Antony Aslett, 54, adds, before adding, modestly: "I don't think mine are ready just yet."
What makes a perfect prize-winning tree?
A natural shape
Dense foliage
Well sheared
A rich green colour
Not too wide, too tall or too thin
No stalks sticking out
Source: British Christmas Tree Growers Association
The voting process, in which entrants are eligible to vote on everyone else's trees, drags on for more than an hour over schedule.
As the tension mounts, entrants bite into hog roast sandwiches as they debate the hot topics of the trade.
These include whether manual or laser-guided shearers are more accurate (there's not much in it, apparently), what is the best way to restrict the amount of sap flowing through a tree (a bit of tape works like a dream), and how you stop buzzards swooping down and mangling the tops of your tallest trees (no-one knows).
There is also many a furrowed brow when talk turns to the perils of Needle Necrosis, a bogeyman to tree growers everywhere. You'll know it when you see it - the needles turn an undesirable reddish-brown colour.
It soon becomes clear that these trees do not sprout overnight like magic beans. Most of the trees taking up space in our homes over the festive period will be around 12 years old.
The end game of today's event - a prize spot outside No 10 - is given added authenticity by the presence of John Howell, Conservative MP for Henley.
What does he think David Cameron would make of today's formations of festive fir?
"I'm sure the prime minister would be delighted," he says confidently.
Each tree is judged for its foliage, colour, shape and marketability. Categories include Best Nordman, Best Other Fir, Best Pine, Best Norway Spruce, Best Other Spruce, Best Container Grown, and Best Festive Wreath.
"If you look at a Christmas card there's a shape to them that you would recognise," says Mike Craig, chairman of the British Christmas Tree Growers Association.
"It should look like a plant that's been well tended and is high quality."
But it is the contestant who enters the tree regarded as the best overall specimen that wins the right to supply the tree that will stand outside No. 10.
"It's a very, very proud moment," says Colin Griffith. "When we see it on the TV it'll be like 'Woah!'
The 52-year-old, from Wellington, Hereford, entered a Norway Spruce that was presciently numbered 10 in its heat.
While Mr Griffith's winning entry is about 6ft (1.8m), the tree he will be supplying to No 10 will be nearer 22ft (6.7m).
This means Mr Griffiths must now go back to his plantation and saw down the proudest specimen he can find.
"I'm fairly nervous," he admitted. "We've got an awful lot of work to do, but we're thrilled to bits.
"We'd like to meet David Cameron but I've no idea what I'll say to him."
As for Charlie Reynolds, the day was still a "good" experience.
"It was a bit of a shame we didn't win but that's the competition, that's how it goes.
"You can't expect to win the first one you enter. I'll try and get a better one in next year."