Push on for city powers - but what about the voters?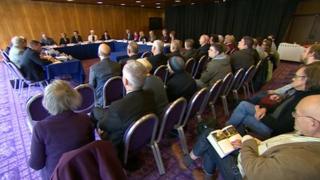 I was given a glimpse of the future this week, but it wasn't flying cars or teleportation.
Instead it was seven councillors in a room making decisions.
I know that doesn't sound very new or very Star Trek, but trust me it could be the future where English devolution is concerned.
The councillors I saw were the leading members of the North East Combined Authority.
More powers
It's unlikely many members of the public will find that name familiar, but it's an amalgam of the seven North East councils covering Tyneside, Wearside, Northumberland and County Durham.
The government was behind their formation with councils told to club together as a precondition to getting more powers and money. Others exist in Manchester and Yorkshire.
And they are now taking decisions which affect people's lives.
This week saw them take their biggest decision to date.
They voted to press ahead with a plan which will see councils take back control of local buses in Tyne and Wear.
It'll see councillors and not private companies decide on routes, set fares and even dictate the colour of the buses.
But this could just be the start.
Combined authorities like the one in the north-east of England are the most likely recipients of more powers and resources as parties and policymakers look for ways of moving power out of Westminster.
Big cities
This week also saw a report from the Royal Society's City Growth Commission into ways of boosting the clout of England's big cities.
It recommends passing significant powers and control over taxes to combined authorities with cities at their hearts.
The authorities in Greater Manchester and West Yorkshire were seen as the most likely areas to get an early shot at running more of their own affairs.
But the North East was seen as not far behind.
The Commission sees the authorities taking decisions on housing, skills, transport and playing a part in encouraging graduates from their universities to stay in their areas.
In addition, it recommended the areas could get full control of council tax and business rate revenues, with other taxes potentially devolved too.
The Chancellor George Osborne welcomed the report and has already said he will look to make a move on devolution in his Autumn Statement.
Democratic mandate
There is a distinct possibility then that those seven North East councillors could soon be taking some even bigger decisions.
But then we come to the thorny issue of their democratic mandate.
All seven of the councillors who sit on the North East Combined Authority are the leaders of the party that controls their individual councils.
But anyone familiar with the North East will know that doesn't lead to much in the way of pluralism - all seven are Labour politicians.
So at this week's meeting, you couldn't help feel that much of the democratic process could well have already taken place in private rooms ahead of the meeting.
That's not to say there wasn't some discussion. The council leaders posed a series of questions to officers about the plan to take back control of buses. Some scepticism was in evidence, and there had been a public consultation ahead of the decision.
But in the end, without anyone from another opposition party, debate in the meeting was distinctly limited, and the plans passed unanimously.
The question is, can that be a sustainable and accountable way of devolving power in the future?
What if voters in one part of the North East don't like what the Combined Authority is doing - how could they influence it?
They could vote the ruling party out of office in their local council - but under the current system with only a third of councillors up for election each year, that could take a long time.
In addition, that would only change one of the seven members. They could still be outvoted.
Metropolitan mayors
It's an issue the City Growth Commission touches on in its report - saying the authorities must be accountable in order to get powers.
The commission doesn't nail its colours to the mast on that, but it does talk about the possibility of putting directly-elected metropolitan mayors in charge.
It's worth remembering though that voters in many cities rejected the idea of mayors when offered them in 2012.
But one alternative - directly electing each local authority representative - might not appeal to either politicians or voters.
For Labour and the Conservatives, it might smack of John Prescott's regional assembly plans which crashed and burned in the North East 10 years ago.
And given the lack of voter enthusiasm for police and crime commissioners, could we expect a big turnout from voters?
There are some of course who say that the only democratic way of dealing with "The English Question" is an English parliament.
And the Combined Authority model also leaves questions about what happens in counties like Cumbria which aren't part of a metropolitan area, and can't easily club together with their neighbours.
Nevertheless, as the conversation continues about devolution, accountability may yet become as big an issue as what powers to pass on.
And that will raise questions about whether seven councillors from one party in one room should represent the future of English democracy.