Baby died following heart surgery at Bristol's Children's Hospital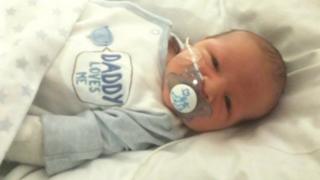 An inquest into the death of a baby at Bristol's Children's Hospital has been told his heart surgery was postponed five times due to a lack of beds.
Harley Pascoe, who was born with a congenital heart condition, died in October 2013, aged 12 days.
The coroner recorded a narrative conclusion following a one-day inquest in Flax Bourton, near Bristol.
His parents, Danielle Gatehouse and Lee Pascoe, of Fraddon, Cornwall, said the inquest had raised "fresh concerns".
Speaking after the inquest they said: "We knew Harley had a complex heart condition but we were told if he underwent surgery, he had an 80% chance of survival.
"After so many cancellations of his operation, including when he was made an emergency patient, it finally went ahead.
"It is painful for us to think that had treatment been carried out sooner or if his care had been dealt with differently, he might still with us."
The inquest heard that surgery to fit a shunt to Harley was cancelled five times in six days due to a lack of beds in the intensive care unit.
The court heard his condition rapidly deteriorated and the operation, which should have taken about 90 minutes, ended up taking over six hours.
He died on 1 October 2013 after suffering a cardiac arrest, hours after his operation.
Consultant cardiac surgeon Serban Stoica told the inquest the operation had been more complex than anticipated, but he said he would perform the surgery in the same way if he was presented with the same situation again.
He said the delay to the operation had not led to the procedure becoming more complex.
Senior coroner for Avon, Maria Voisin, said surgery "was the only way forward" for Harley.
"The operation was less straightforward but this sometimes happens and the issues were dealt with.
"Following surgery, Harley was in a critical but stable condition.... [he] sustained unexpected cardiac arrest and despite resuscitation attempts, Harley sadly died."
A spokesman for University Hospitals Bristol said: "Harley's surgery had to be rescheduled to accommodate children needing treatment more urgently and we understand how distressing this must have been for his parents.
"The coroner found that this did not contribute to his death."
The inquest follows others concerning babies and children who were treated at Bristol Royal Hospital for Children, amid allegations of neglect and mistreatment.