Emergency services hub plan for County Durham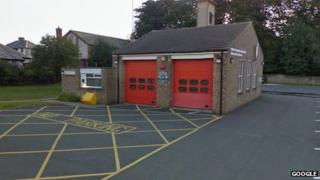 A new "quad station", housing four emergency services in one place, is to be built in County Durham.
The £3.7m development will be used by police, ambulance and fire services, as well as the mountain rescue team.
It will be built on the site of Barnard Castle Fire Station, which would otherwise have had to be redeveloped.
Funding for the hub has come from the government's £75m Fire Transformation Fund, which is being shared between 37 projects in England and Wales.
County Durham and Darlington Fire and Rescue Service said it would be one of the first in the country, and a consultation with the public would take place in due course.
Paul Liversidge, North East Ambulance Service's chief operating officer, said: "While we have very different specialities, we are all in the business of helping others.
"Being alongside our colleagues from fire and rescue and the police in the quad station, makes sense of many levels."
Ron Hogg, Durham Police and Crime Commissioner, said: "Not only will this innovative project continue to improve services to the local community, it will also bring financial savings to the partners involved."