Christmas toys: How to spot a future collectors' item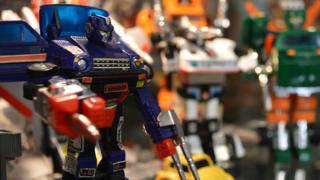 As a child, nothing beats the excitement of tearing open toys on Christmas morning. But years later, how many of those old games and action figures have more than nostalgic value? Take a look at some of the must-have toys of Christmas past and discover which toys might go up in value in 2015.
Some people will go to extraordinary lengths to find out whether their toy collection is worth a fortune. Earlier this year, one man even X-rayed an old Star Wars box to see what was inside.
Leicester toy collector Ricky Philips admits his bedroom looks like the warehouse "at the end of Raiders of the Lost Ark".
The dozens of cardboard boxes stacked against the walls contain around 2,000 action figures - most of which the 30-year-old has kept since he was a boy, having managed to rescue them from the clutches of younger cousins and even the bin men.
But he is always on the lookout for more vintage toys.
"Basically if I like it I will collect it," he says. "I like the hunt, I like to sniff out rare and interesting things and I like to learn more about them."
Despite the size of his collection, he says it is worth about £400 and is most proud of his "battered childhood Transformers Grimlock".
"It's more precious to me than any of the more prestigious bits and bobs I've picked up, missing teeth and all," he says.
Money, he says, is not his motivation but for many people it is about profit. Every day on sites such as eBay, rare and vintage toys are changing hands - often for hundreds of pounds, sometimes thousands.
There is a thriving market for those seeking out toys they had (or wanted) as children and who now have disposable incomes.
Perhaps for this reason, two of the big hitters of the 1980s - Star Wars and Transformers - are still hugely popular.
"Both toy lines are still very much alive and kicking with constant new toy and media releases to ensure they stay collectable," says Mr Philips.
"[However] it is a very fickle and largely unpredictable market primarily fuelled by warm memories and nostalgia."
For some collectors, this nostalgia extends to that other phenomenon of the 1980s - video games.
---
The holy grails of toy collecting
There are only six known vinyl-cloaked Jawa figures left in the world - some people did not believe they even existed - but one sold for £10,200 at a Teesside auction in 2013
Scratch is an easily forgotten Teenage Mutant Ninja Turtles baddie but a boxed figure can sell for hundreds of pounds while the Turtles themselves only sell for up to £15
The Rocket Firing Boba Fett was believed to have been withdrawn due to safety reasons and sells for thousands at auctions
Another Star Wars figure known as Yak Face is much sought after but, due to declining sales, was never sold in the US. Now, a good condition model can go for hundreds of pounds
Die cast cars are a popular area of toy collecting and many look for models from the 1950s and 1960s - a Dinky Austin Omnisport A40 van fetched £6,400 in 2009
---
Rob Burman, editor of the Lincolnshire-based Collectors Gazette, says people are buying the old games as investments for the future.
"Those who grew up in the 1980s remember playing with Nintendo or Sega consoles, rather than with die cast cars or model railways.
"The great thing about these is that not a lot of people think that old video games are worth anything, so they still crop up at car boots or in charity shops for a few pounds."
Mr Burman said some Super Nintendo games, particularly those that feature Mario, can sell for about £80, while factory sealed Nintendo games go for hundreds on eBay.
It goes without saying though, that "classic" toys which pre-date the explosion of plastic action figures remain much in demand.
Some of the rarer model cars made by Dinky, Corgi and Matchbox can command impressive sums.
In 2008, a Dinky delivery van, bearing the name W E Boyce, went on sale with a guide price of between £7,000 and £10,000. It eventually went under the hammer for £17,000.
"It was thought to be the only one in existence," said Mr Burman.
"If you've got one of those sitting in your loft you could be sitting on a small fortune."
But for sheer collectability, fuelled by its enormous, generation-spanning fan base, few can compete with the juggernaut that is Star Wars.
In recent years, it is something that traditional auctioneers have started to take seriously.
In October 2013, a vinyl-cloaked Jawa figure - described as the "holy grail" for Star Wars collectors - sold for £10,200.
Toy specialists Vectis, which auctioned the figure, believes many are still waiting to be discovered.
According to auctioneer Kathy Taylor, lots of Star Wars toys, bought for as little as 99p, were left unopened and forgotten about in cupboards or attics.
"These figures are still out there," she says. "People are not aware of the value."
But what of the future? Is it possible to predict a collectable craze to come?
Ms Taylor says that at the moment old Dr Who merchandise, especially anything bearing the image of original doctor William Hartnell, is very collectable as the early toys were not as widely produced.
As a result "variations [of Dr Who toys] will be become rarer in the passage of time," she says.
"But mainly it's the things we can't predict. We [would] need to go back in a TARDIS and scoop them up."
Ricky Philips, who also works at the Leicester Old Toys and Vintage shop, admits it's hard to judge the next big thing, but points out that events - often unfortunate ones - can sometimes be an indictor.
After Ghostbusters actor Harold Ramis died in February, there was a sudden surge in demand for the figure based on his character.
And the same happened when Robin Williams passed away - prices for his 1970s Mork action figure "went through the roof", according Mr Philips.
"It's very sad," he says. "Because you don't want [the shop's] sales to go up because a beloved actor is dead."
Looking ahead to the big film releases in 2015, which include Jurassic World and Star Wars VII, experts believe a new scramble for the old toys could well begin.
"I've been telling people now's the time to buy Star Wars," says Mr Philips. "A smart man would also stock up on Jurassic Park toys [from 1993] too."
"But you never know what's going to be the next hot thing people want to collect.
"If anyone had the ability to predict that, they'd be a millionaire."
So, does he think collecting toys as an investment is ultimately pointless?
"Value should be a secondary concern, a nice comfort just in case the car fails the MOT.
"If you try to collect toys just for the value, you're doing things completely wrong, and in the long run you will probably lose out.
"Helping someone [in the toy shop] get back that one thing they loved as a child and lost is very rewarding."
"The primary reason for buying any toy should be because you love it."