Somerset and Gloucestershire badger cull pilots come to an end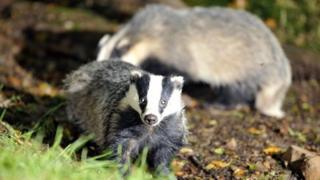 A second year of badger cull trials in Somerset and Gloucestershire have come to an end without official indication of how many badgers have been killed.
Marksmen had a target of killing a minimum of 615 in Gloucestershire and 316 in Somerset this year.
Last year, official targets were missed and an independent panel found the method of "controlled shooting" was inhumane and ineffective.
Cull supporters blame badgers for spreading TB to cattle.
'In the zone'
The culls officially ended at 12:00 BST on Monday.
A Defra spokesman said: "The numbers of badgers removed during the culls will be analysed, quality assured and audited before release.
"The information on safety and humaneness will also be analysed, quality assured and signed off by the chief veterinary officer."
More than 26,000 cattle were killed in England last year because of TB.
Andrew Guest, from the National Farmers' Union, which is carrying out the cull in the county on behalf of Defra, said he believed it had been a success.
"The feeling is that we have removed enough badgers to control the disease in Gloucestershire and we're very pleased with that."
Protesters have been patrolling the cull zones in order to stop badgers being killed
Campaigners have been disrupting both pilot zones which cull operators admit have had a significant impact.
One protester, Mandy, who did not want to give her second name, said they had patrolled all night.
"There's been a lot of people in the zone, we've got autonomous groups, so a group of people is responsible for each area; mostly it's people who were here last year, so they know the area really well," she said.
In 2013, 921 badgers were killed in Gloucestershire and 940 in Somerset - with neither meeting the 70% target set by Defra.
The maximum number of badgers that can be culled this year has been set at 1,091 in Gloucestershire and 785 in Somerset.
The four-year pilot cull aims to kill 70% of the initial population to test how effective, humane and safe a cull can be.