Hen party M62 crash: Bethany Jones 'was a big part of everyone'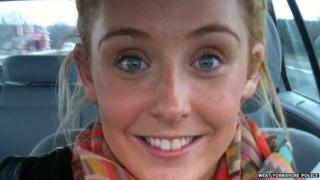 Bus driver James Johnson has been jailed for more than six years for causing the death of teenager Bethany Jones by dangerous driving. Her cousin pays tribute to the bright young teenager who lit up her home town.
In a pub on the edge of West Yorkshire hangs a photograph of a smiling, bubbly barmaid.
It has pride of place on a wall of the Barnsley Oak, in South Elmsall, in honour of the 18-year-old whose life was cut short in a motorway crash.
The picture of Bethany Jones with model Kelly Brook was taken when the celebrity popped in for lunch while visiting the area.
Pub landlord Mark Larkin said despite the months that had passed since his cousin's death, it still felt strange to him that his cousin was no longer there.
"People still talk about her in the village," he said. "She was a lovely person. She was caring, she was chatty, she had her whole life ahead of her.
"She was a big part of the pub. She was a big part of everyone."
Ms Jones was with a hen party bound for Liverpool when she was killed on the M62 last April.
It was a celebration she had been looking forward to, Tweeting in the days before: "This weekend can't come quick enough".
But when a truck ploughed into the rear of the minibus, she became trapped under the wreckage and suffered fatal injuries.
Ms Jones was training to be a nurse - a career she was cut out for, reflected Mr Larkin.
"Bethany was a caring person. When old people came into the pub for the carvery she would ask them what they wanted and go and queue for them and take it to the table," he said.
"It was silly things like that. She was going to fit into that role perfectly."
It was the smell of a burning clutch that first alerted passengers on board the minibus that something might be wrong on the morning of 26 April.
Just moments after they left South Elmsall, the women asked driver Johnson to pull over and check the vehicle.
Finding nothing wrong, Mr Johnson carried on his journey, joining the motorway just after 11:00 BST.
But less than half an hour later, the bus crawled almost to a standstill near Pontefract, where seconds later, a Farmfoods lorry ploughed into its rear, shunting it 45m along the road and into a barrier.
It was a crash so severe that of the 21 women on board, 11 were injured, including bride-to-be Stefanie Firth.
Ms Jones died at the scene.
Her sister Amy Firth told the trial of truck driver Kevin Ollerhead last month that after the crash she awoke to see the bus on its side. She was crying and screaming, shouting Ms Jones' name.
As the full scale of the devastation unfolded, both sides of the M62 ground to a halt.
Concerned motorists abandoned their cars in the growing traffic jam and walked to the hard shoulder to see if they could help.
Within minutes, emergency services and six air ambulances were scouring the scene for survivors.
While 20 women had been rescued, Ms Jones had not survived.
In the days after her death, tributes poured in.
Among them was a woman's account of seeing the party board the bus in South Elmsall, dressed in pink.
"I saw them all laughing and giggling," Doreen Gray recalled. "I thought to myself they are in for a fun weekend. They were in great spirits."
At Ms Jones' funeral in June, hundreds of mourners lined the streets of her home town as the cortege approached St Joseph's Church.
Six of the injured women arrived in wheelchairs while others walked with the aid of crutches to pay their last respects to their daughter, sister, colleague and friend.
During the service, the young woman was described by devastated family members as "beautiful on the outside and stunning on the inside".
Her death rocked the community and when Mr Larkin launched the Beth's Angels fund, it raised more than £53,000 for those injured in the crash.
The group held countless fundraising events, with overwhelming support from people across the Wakefield district and beyond.
About £40,000 was divided between the women to help support them while they recovered and the rest was given to charities, including the Yorkshire Air Ambulance.
"I felt like I needed to do something for my family," said Mr Larkin said. "I started it up with £1,000 of the pub's takings and it just escalated.
"I thought it would [raise] a few thousand pounds, but we got cheques from unions and from companies, from people all over the country.
"It touched people in America, we even had a cheque from Australia from someone who'd seen the story on the internet. It just grew and grew."
Bus driver Johnson, of Wyke, Bradford, admitted causing death by dangerous driving and was sentenced to six years and eight months at Leeds Crown Court.
He was also banned from driving for 10 years.
The court heard the 24-seater coach suffered mechanical problems and came almost to a stop before it was hit from behind by the lorry at 52mph.
Mr Ollerhead, who denied the same charge, was cleared following a trial last month.
"[The court case] will provide closure," said Mr Larkin. "It's been a long drawn out thing and it does need to be put to bed.
"But I don't think [the family] will ever come to terms with it. Paul and Diane lost their daughter, nothing is going to bring her back."