Rotherham abuse scandal: Joyce Thacker given £40k payout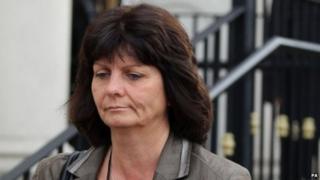 Rotherham Council's director of children's services was paid £40,000 to leave in the wake of the child sex abuse scandal, it has been revealed.
Joyce Thacker resigned last month after weeks of pressure following the publication of the Jay Report.
It was discovered shortly before she quit that she had been on sick leave.
The council told BBC Radio Sheffield the amount paid to Mrs Thacker was less than the contractual notice entitlement.
The payout came to light following an Freedom Of Information request from the Sheffield Star.
Mrs Thacker left her post by "mutual agreement" in the wake of the report, which detailed the sexual abuse of 1,400 children in the town, mainly by gangs of men of Pakistani heritage, from 1997 to 2013.
'Reward for failure'
Keith Vaz, chairman of the Home Affairs Select Committee, said he was "astounded" by news of the payout.
He called on Mrs Thacker to resign after she was grilled by the committee, which has now called for an urgent investigation into allegations files relating to the scandal went missing.
He said: "I'm astounded that Joyce Thacker has been given this payment.
"I hope they will think again about this and ask for this money to be repaid, because it would be wrong to be seen to be rewarding individuals for what has clearly been a failure by the council."
Professor Alexis Jay said in the report that senior managers had "underplayed" the scale and seriousness of the problem and police also failed to prioritise it.
Mrs Thacker said she was "appalled" at the scale of the abuse and offered her "sincere apologies to those who were let down by our services in the past", adding there were "simply no excuses".
Her resignation was the last in a series of resignations, including Council leader Roger Stone, council chief executive Martin Kimber, and South Yorkshire police commissioner, Shaun Wright.