Yorkshire Awards 2014; Gary Verity, Judi Dench and Kell Brook among winners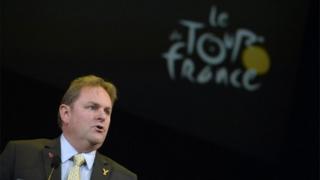 The organiser of this summer's Grand Depart for the Tour de France, Gary Verity, is among those honoured at the 2014 Yorkshire Awards.
The chief executive of Welcome to Yorkshire was named Man of the Year after bringing the first two stages of the Tour de France to the county.
Race bosses said it was "the grandest Grand Depart ever". About 2.5m people lined the route on 5 and 6 July.
Other winners include actress Dame Judi Dench and boxer Kell Brook.
Mr Verity said: "I'm sure there are loads of people who should have this award before me and I feel very humble about it."
Dame Judi, who was born in York, has been honoured with a Lifetime Achievement Award.
The 79-year-old, who is playing the Duchess of York in a BBC production of Richard III, was unable to attend the ceremony, but said: "It's wonderful to have this from the city I was born and brought up in and that I love so much."
Actress Helen Worth, also known as Gail Tilsley from Coronation Street, was named Woman of the Year. Worth, who was born in Farsley, West Yorkshire, has this year celebrated 40 years on the soap opera.
The Sporting Achievement Award went to boxer Kell Brook. The 28-year-old from Sheffield was crowned IBF world welterweight champion in August.
'Fiercely proud Yorkshireman'
The Community Hero award was presented to Adrian Woods MBE who set-up a charity in West Yorkshire to help young people who have been excluded from school.
OnTrak in Bradford is a working garage and a community training project.
"You don't get out of bed to do this for your own personal development," said Adrian "You do it because it makes you feel good."
A special award was presented to Jonny Mitchell, the head teacher of Thornhill Community Academy in Dewsbury, which was featured in the Channel 4 documentary series Educating Yorkshire.
"I am a fiercely proud Yorkshireman," he said. "I want to make sure that Yorkshire and my little part of Yorkshire where I'm from is portrayed really well. If we've made a small contribution to raising the profile of Yorkshire in a positive way that makes me feel doubly proud."
Normanton-born actor Reece Dinsdale was given the Arts and Entertainment prize. In 1984 he appeared in the BAFTA award winning BBC docudrama Threads about the aftermath of a nuclear attack in Sheffield.
The Countryside award was given to shepherdess and star of ITV's The Dales Amanda Owen, who grew up in Huddersfield.
Harrogate-based equipment hire firm Vp plc won the Business and Enterprise award.
Judy Bell MBE, chairwoman of Thirsk cheese making firm Shepherds Purse Cheeses Ltd, was awarded the Richard Whiteley prize. The dairy celebrates its 25th anniversary this year.