Christmas TV: Sitcoms up our street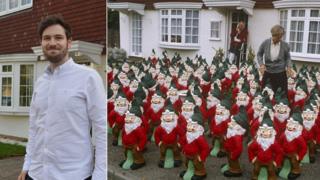 Twenty-five years ago, garden gnomes being machine gunned, severed heads on washing lines and naked men dangling from gutters became everyday occurrences in a Dorset cul-de-sac. But what is it like when your home becomes a TV set?
As a child, Chris Southgate lived with his parents at 4 Tresillian Way in Walkford, near Christchurch - it was also the home of Victor and Margaret Meldrew when the BBC came to film One Foot in the Grave.
"For me, it was just normal - one of those things which just happened every year.
"It was quite bizarre, I remember coming home from school and seeing Richard Wilson buried in a massive hole in the garden with lots of blankets all around.
"There was always lots going on - like when they replaced our double-glazed windows with sugar glass. I took some into school to do a show-and-tell. It was really cool saying we had the BBC at our house."
Writer David Renwick explained Tresillian Way was chosen because it fitted a storyline at the start of series two, in which the Meldrews came back from holiday to find their house demolished and a mix-up over a housewarming party followed.
"Just for that one joke, we needed a set of houses which looked identical - but that was a lot tougher to find that it sounds."
Although it was never referenced in the series, east Dorset was an apt location. The area has one of the oldest populations in the country for whom Victor's outbursts at modern life would no doubt have resonated.
When Ted Kennet and his wife moved in to number six in the late 1990s, he had "no idea whatsoever" of their new home's alter-ego as the house of Victor's neighbour Nick Swainy.
"There was a severed head on the washing line once, which was quite funny.
"The back garden fence used to open and the characters used to come through and talk to each other. I'd stand in the bedroom window watching it - until we had to hide ourselves when the camera came to a different angle," he recalled.
Last of the Summer Wine
For 35 years, the West Yorkshire village of Holmfirth was a mainstay of Sunday evening telly as the home of Compo, Clegg, Nora Batty and the host of eccentric characters in Last of the Summer Wine.
Resident Sue Gardener remembers the "very entertaining times" when locals would watch the death-defying stunts in bath tubs and other contraptions, all set against a backdrop of the Pennine countryside.
Her dog, Max, was hired for "50 quid and plenty of dog treats" to play a staring role in the 2008 episode All that Glitters is not Elvis.
"He did it in two takes," she explained proudly,
"He had to play a lost female dog, Elvira, who returned at the very end of the episode. It was the one in which Howard ends up dressed as Elvis - it was very funny."
Mrs Gardener now runs the Last of the Summer Wine Exhibition in Holmfirth,
"It's been a real boost to the village - for all the cafes and shops. We get real fanatical fans and also very young children who just love the slapstick - the show appeals to all ages."
Colin Frost ran the popular Sid's Cafe in the village, one of the main locations featured on the show.
Unusually, scenes were shot both in a studio and inside the actual cafe so viewers could see the view out of the window into the street.
He now conducts bus trips around the locations.
"It's the gentle humour of the show and some of the most beautiful scenery in England which brings them here.
"The cast and crew were part of the community, they'd mix with the locals and there was a good sense of fun - the props manager still comes here for his holidays."
Re-living the Good Life
As Mark Jordan walked to school along Kewferry Road in Northwood, north-west London, he would see a lawn in the morning, replaced by a prop vegetable patch in the afternoon.
It was the TV home of Tom and Barbara Goode - played by Richard Briars and Felicity Kendall - the suburban self-sufficiency pioneers of the 1970s.
Mr Jordan went on to buy the house in 2007 and his family had a go at growing their own vegetables and rearing chickens.
"I didn't buy the house because I was a fan of the show - it's just a lovely family house," he said.
The house is actually miles from Surbiton, where the series was set, but that does not stop fans still trying to find the Goode's house - 30 years after Tom and Barbara brewed their last parsnip wine.
"We do get people outside, looking suspicious and taking photos. We've had some work done on the front of the house, so it's a bit more tricky to work out."
---
To the Manor Born
An altogether grander residence was required for Grantleigh - the erstwhile home of Audrey fforbes-Hamilton in To The Manor Born, which was first broadcast in 1979.
The country estate at Cricket St Thomas, near Chard in Somerset, was then owned by the father-in-law of the series' writer Peter Spence.
Roger Still, a fan of the series, gives talks on its history at what is now a hotel.
"It had everything - a romantic story, the 'upstairs downstairs' class element and the idyllic countryside - it just gelled," he says.
On one tricky occasion estate hands were needed to hold up an old dead tree which was to be "cut down" in the show, but they could not hold on.
"There was pandemonium on all sides as the tree fell and crashed down. In the middle of it being filmed stood an unmoved Penelope Keith - she had not flinched. They got the shot they wanted."
---
Surprising Sitcom Locations
Only Fools and Horses - Despite its Peckham setting, most of the series was shot in urban locations around Bristol. Filming early episodes in London was hampered by too many onlookers
Hyacinth Bucket's house in Keeping up Appearances is tucked away in the Coventry suburb of Binley Woods
'Allo Allo exterior scenes were shot at Lynford Hall in Norfolk, which could pass for a French Chateau, saving the BBC the cost of finding a location in France
Despite being supposedly located in both Barry and Essex, most of Gavin and Stacey, including the Essex scenes, was shot almost entirely around the South Wales resort
Source: The British Television Location Guide - Steve Clark and Shoba Vazirani
---
Open all Hours
Lister Avenue in Doncaster had the most famous corner shop in the country once it became home to the miserly Arkwright, brilliantly played by Ronnie Barker, in Open All Hours.
After pilots filmed in London were deemed as not looking "northern enough", Beautique hairdressers in Balby was chosen to be transformed into Arkwright's emporium.
Wilfred Smith, 76, who still lives nearby, remembers having a cuppa with the cast and getting photography tips from the crew in the location caravan.
"Ronnie Barker was a wonderful actor - he would stay in character with the stutter and say 'hello there W-w-w-w-Wilfred' - he was brilliant."
Mr Smith said the show was "typical" of the shops and shopkeepers he remembers in the town when he was growing up in the 1950s.
Remarkably, the hairdressers remains in situ and, just as 30 years ago, was used in 2013 as the location for the shop in the revival Still Open All Hours, with Sir David Jason reprising his role of Granville who has inherited the business from his uncle.
During the filming of the remake, Sir David said: "It's as if we never left it. The people were so warm and receptive - they stood patiently watching us all day."
Linda Baron, who played Nurse Gladys, said: "One lady came and said 'I remember watching you when I was a little girl and now I've brought my daughter to watch you.' And that was quite moving.
"That street felt they owned us then, and they still feel as if they own us."
---
Downside of Dibley
Two clerical comedies show both sides of the after effects of fame on British television.
Over in Kilfenora, County Clare, aka Craggy Island, Janet Cavanagh takes up to 4,000 people a year on her Father Ted Tours.
"Some of them are fanatical - they think the Father Ted parochial house is a national monument.
"A lot of locals were used as extras who were recruited on an ad hoc basis, especially in the first series.
"At the time it divided opinion - some staunch Catholics were not very happy, but now everyone is more easy going about it."
However for the residents of a small Chiltern village near High Wycombe, where the Vicar of Dibley's external shots were filmed, memories are more mixed.
The sensitivities are such that residents still prefer not even to publicise the village's name.
Resident Gary Steventon who now coordinates requests from film companies, said the hit sitcom staring Dawn French has "left a legacy".
He said on one occasion a fire engine was not able to get to a house fire as the village's only road was blocked by a tour bus.
"The village has always been popular with walkers but we hadn't anticipated the influx of tourists and coach parties. We do not have the infrastructure to cope."
---
One Foot in the Grave - a Celebration of a Comedy Classic on BBC Radio Solent on Christmas Day at 15:00 GMT or on BBC iPlayer.