World's oldest football trophy 'not for sale'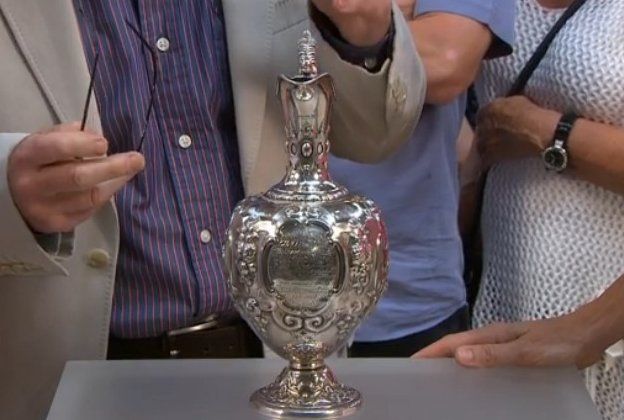 The world's oldest-known football trophy is not for sale, despite being valued at £100,000, its owners have insisted.
The silver Youdan Cup was presented to non-league Hallam FC in February 1867 after they won a tournament contested by Sheffield teams.
A BBC Antiques Roadshow expert put the estimate on the engraved claret jug.
Hallam's chairman Chris Taylor said the club would be reviewing its insurance policy following the price estimate.
He said: "The cup is actually priceless to us and is definitely not for sale.
"It represents not only our heritage, but that of the national game and that of Sheffield as the true home of football."
However, he added: "If someone is interested in investing time and money in a grassroots club with a rich history then they know who to call."
The Youdan Cup, which predates the FA Cup by four years, was contested by 12 teams, with the final at Sheffield's Bramall Lane.
It was named after theatre owner and football fan Thomas Youdan, who offered the cup and prize money.
Other teams taking part were Broomhall, Fir Vale, Garrick, Heeley, Mackenzie, Mechanics, Milton, Norfolk, Norton, Pitsmoor and Wellington. Only Hallam FC still exists.
They beat Norfolk 2-1 in the final.
The jug featured on Sunday's Antiques Roadshow, from the Roundhouse, Derby.
It first appeared on the programme in 2008, when it was valued at £20,000.
Silver specialist Alastair Dickenson said: "At first sight it's a fairly standard Victorian claret jug, which would be worth about £800."
But he said he had learnt more about the cup's history, adding: "We are pretty certain this is the world's oldest football trophy.
"As such, I think the value has shifted a bit from my previous valuation. I would expect it to fetch £100,000 - probably more."
Sheffield's early football pedigree
Hallam FC's Sandygate is the oldest football ground in the world
Bramall Lane - where the Youdan Cup final was played - is the oldest professional ground still hosting major matches
It is currently home to Sheffield United, but in 1867 the club did not yet exist and the ground was predominantly a cricket pitch
Sheffield FC is the oldest football club in the world. Although they were the biggest in the city at the time, they did not take part in the Youdan Cup
Professional club Sheffield Wednesday were formed a few months after the Youdan Cup final
Related Internet Links
The BBC is not responsible for the content of external sites.