Heathrow airspace trials: Life under the flight path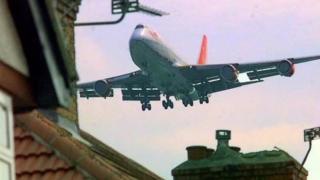 At the end of 2013, Heathrow began testing new take-off routes as part of a government-led strategy to improve efficiency, capacity and safety.
The first most residents knew about it was when a Jumbo Jet passed overhead.
Heathrow will temporarily halt the trials later, but says more are needed before it and National Air Traffic Services can report their findings.
So, what is it like to suddenly find yourself under a flight path and what is the likely outcome of the trials?
About 650 planes take off from Heathrow each day along one of its "Noise Preferential Routes" - 1.9 mile-wide (3km) corridors set by the Department for Transport (DfT) in the 1960s to minimise noise disturbance to the airport's neighbours.
The trials, which started last December, involve flying more precise, narrower corridors, including new departure routes.
'No consultation'
It has meant many people who were previously not under flight paths have been experiencing low-flying passenger jets directly over their homes.
Heathrow said it held briefings with local authorities, residents' groups and local MPs but residents say they were not consulted or even warned.
Amanda Smerczak, who lives in Ascot, Berkshire, has led a campaign to end flights over her once-quiet town.
"All of a sudden we had a big jumbo jet on top of our house then, through social media, people started to realise what was going on," she said.
"I'm not against air travel, but we chose the location of our house because it wasn't under a flight path - I can't get my head around how Heathrow can do this without any consultation at all."
Similar stories can be heard in neighbouring Surrey, where Rosalie James is leading a campaign on behalf of residents of Windlesham, Lightwater and Bagshot.
She said: "I was starting to get driven mad by it. When flights are going over at midnight and then you are woken up early, suddenly you are getting four hours sleep."
A Heathrow spokesman said the trials were about "modernising airspace" to make it more efficient.
"This will bring benefits to both local communities with more predictable noise respite through alternating routes and steeper departure paths, and passengers by reducing airspace congestion," he said.
"These are just temporary changes and no permanent changes to flight paths will be made before everyone has an opportunity to have their say on possible options for flight paths through a public consultation."
'Very disturbing'
But, separate from the trials, Heathrow also wants to build a third runway, and the flight path experiment has highlighted the potential for noise in communities that had never considered themselves as being in the airport's shadow.
Windsor and Maidenhead borough councillor David Hilton, who represents Ascot and Cheapside, said: "All these people have had a really benign view of Heathrow - a third runway probably would not have been in their view.
"Now they know it could be very disturbing."
Ms James agreed: "There were people who had no opinion particularly about the third runway or airport expansion and now they are vociferously opposed to it - that's just poor public relations."
The airport's spokesman added: "Heathrow will be holding public meetings with residents where they are requested and is sorry for those who have temporarily experienced more noise than usual during these trials."
About 1,000 people attended a meeting in Ascot last month, and hundreds more from Windlesham, Lightwater and Bagshot gathered last week.
At least six separate online petitions against the new flight paths have attracted more than 17,000 signatures but, while organisers from the various communities are standing together on the issue of aircraft noise, they realise they could ultimately be pitted against each other when the government makes its final decision.
But, aviation consultant Barry Humphreys points out any changes will create winners and losers.
Mr Humphreys, also chairman of the British Air Transport Association, said: "It is understandable that many of those affected by the trials have been concerned.
"Many others, of course, have also benefitted from the changes to flight paths but, as is often the case, those who are adversely affected tend to be the more vocal.
"Governments need to make decisions on objective facts, not on the basis of who shouts the loudest.
"The number of aircraft movements into and out of Heathrow is capped by the government. That cap will have to be revised if a decision is taken to build another runway at the airport, but that is completely separate from these trials and in any case is many years away, even assuming an eventual positive decision."
---
Heathrow facts
Heathrow is the UK's busiest airport and the third busiest in the world
It has two runways, five terminals and is used by more than 80 airlines
There are about 70 million passengers a year flying to 180 destinations
There are, on average 469,552 flights to and from the airport each year
About 650 planes take off from the airport each day
Between 11pm and 6am, the airport is restricted to 5,800 take-offs and landings a year
Aircraft leave on "Noise Preferential Routes" set by the DfT in the 1960s
The departure routes are 3km wide and are followed by aircraft up to an altitude of 4,000ft
---