Fallen trees in south of England cause travel delays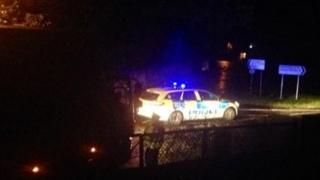 Fallen trees have caused delays amid heavy rain across the south of England.
The A337 in the New Forest, Hampshire, was closed for two hours between Brockenhurst and Lyndhurst due to a tree blocking the road.
Trains were delayed for 45 minutes between Guildford and Portsmouth due to a fallen tree at Haslemere.
A yellow weather warning from the Met Office is in place for the south of England for "persistent and sometimes heavy rainfall".
Road sweepers on the Isle of Wight are clearing a landslip in Military Road, Freshwater, which blocked the road between Hanover Point and Compton Farm.
There have also been three accidents near the Longparish exit on the A303 near Andover leading to delays of 30 minutes.
The Met Office said: "The public should be aware of the risk of localised surface water flooding."
A flood alert, which means flooding is possible, has been issued for the area from Putney Bridge to Teddington Weir along the River Thames.